Seniors React to CUH's Decision to Postpone Commencement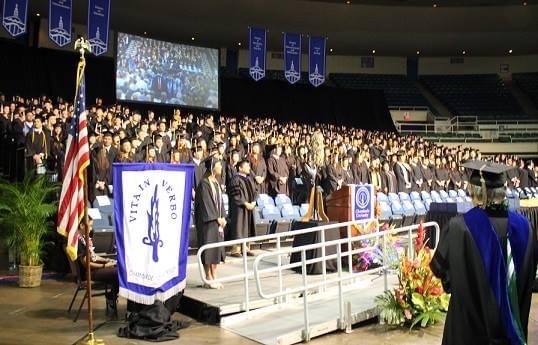 Maria Edralin, a 22-year-old from Guam, was excited to walk across the stage and receive her diploma this spring. But that dream has been delayed due to the coronavirus. 
On March 20, Chaminade University of Honolulu announced its decision to postpone the commencement ceremonies until December. Many graduates are distraught about this decision. For some this may have been their only time to graduate in front of family and friends. 
"Commencement was a way of celebrating all of the accomplishments that we have made through the years," Edralin said. "And it sucks that some of us won't even be able to walk due to a virus."
Edralin is graduating with a bachelor's degree in Biology. She had six family members flying in from Guam to see both her and her cousin graduate. Each person spent around $800 on round-trip plane tickets. She has decided that she is going to stay in Hawaii until December to walk, so that she can make her parents proud.
But for some it is not that simple. 
Andrew Trapsi, a 22-year-old from San Francisco, has been at Chaminade for five years and was the recipient of the Founders' Award. Being from the mainland means that he would have to come back in December to walk in commencement. But he has stayed positive about it. 
"I have waited this long to graduate, I don't mind waiting a couple more months to walk across the stage," Trapsi said. "My main concerns right now are the safety of others and containing the spread. Chaminade made the right decision in postponing to avoid the large gathering." 
When the announcement was made Jeren Nishimoto, a 21-year-old Business major from Maui, had to make a big decision: the choice between going home and not walking in the ceremony or staying here and graduating in December. For him, the ceremony wasn't really a big deal, and he is just ready to get into the workforce. 
"I know how much graduation meant to some of my friends, and I am sad that they have lost the opportunity," he said. "For some of them they were going to be the first-generation college graduates. Now they are going to have to wait to celebrate this accomplishment with family." 
Erica Navarro, a 21-year-old from Ewa Beach, is a fourth-year Psychology major and the first in her family to even attend college. She had family coming from all over to see her graduate, but now they have to cancel their travel plans. 
"My parents have been talking about my college graduation ever since I started at Chaminade," she said. "It has made me so excited to make them proud about graduating, but I am glad that the ceremony was postponed versus being canceled. This means that the people that want to walk will still be able to." 
A date has yet to be announced for the December commencement.