Trapsi Earns 'Milestone' With Founders' Award
Andrew Trapsi attended Archbishop Riordan High School, a Catholic all-boys school, in San Francisco. The school's Marianist values led him to It was a stepping stone in his faith journey. It began with a teacher who helped kick his faith into action. The teacher was in charge of the school's life team, which is like campus ministry here at Chaminade. Joey Klobas, campus ministry team, one of the first to help him connect to his faith.
The Marianist values that Chaminade upholds, made his decision clear on attending here for college.
And now the fifth-year senior has been recognized for this year's Founders' Award recipient… On Jan. 22, Trapsi was recognized for his involvement with campus ministry, admissions office, and taking on responsibilities of being an RA this year.
"When you get to know him, there is just a solid sense about him and he's genuine," said Bro. Edward Brink, who is in charge of selecting the award winner. "What you see is what you get."
From growing in his faith in high school, he continues to expand his connection by coming to Chaminade and getting involved with Chaminade's Campus Ministry Program. The ministry leaders guided and allowed him to dive in, practice it, and share it. He also joined the Filipino Club, Hawaiian Club, Samoan Club, and Micronesian Club. Joining all these clubs taught him the different cultures and connecting with people.
In 2019, Trapsi was awarded The Dean's Award at the Co-Circular Ceremony. He was even selected to be a part of the Campus Ministry Leadership Team and selected to be a Resident Aid. Trapsi makes connections with people in different ways. 
Being away from home helped him matured and appreciate his family more, especially his sisters. He's at Chaminade doing what he needs to do so he can make his way back home. Trapsi is majoring in Biology. After he graduates this May, his plan is to land a biotech job or to be a firefighter. 
"Andrew always puts his best effort in everything he does," said his cousin, Derek Del Rosario. "He always does the right thing and he doesn't care who judges him."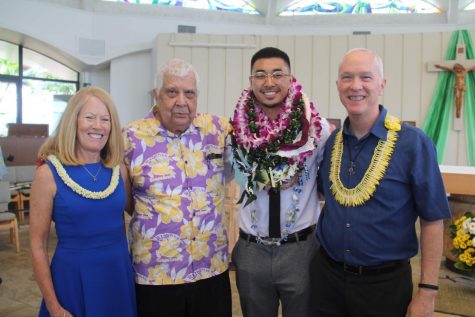 Trapsi and Del Rosario grew up together as both cousins and best friends. As a child, Del Rosario will always remember Trapsi having his back in tough situations.
Family is a big part of who Trapsi is, and he strives to be better for them. In the early years of his life, he was raised by his mom (Katherine Trapsi) and his grandparents (Trini Ravelo, Agnes Cruz, and Robert Marbella). He said his mom has always been his hero.
When he was in the fourth grade, his mom married his dad Ernest Trapsi Jr., a police officer. Trapsi Jr. taught him the importance of family and hard work. Andrew Trapsi is inspired by the man his father is and strives to be similar.
Trapsi has two younger sisters, Sophia Trapsi and Emma Trapsi. He works hard to provide for them so they will have a good future and foundation.
"Everything I do is for my family," Trapsi said. 
Here at Chaminade, his impact is unquestioned as this year's Founders' Award winner, which recognizes what students and staff have accomplished and how they inspired others to make the mission known. The award offers a framed certificate and a cash prize of $250. It also gives the opportunity of donating $250 to a program or campus project of the recipient's choice. 
"It's a great milestone, but it doesn't end, even once we graduate from Chaminade," Trapsi said. "Learn to treat people with genuine love."