UNLOCKED: Escape Room
"Get off the phone, and help your idiot friends."
The Sandman shouted these instructions to a team of four who undertook clearing locks and solving puzzles for the first time throughout the 25 by 15 foot room at UNLOCKED at Ward Warehouse.
This sick, twisted, mentally challenging hour of collecting clues and solving puzzle after puzzle in what feels like time slowing down when searching for the next piece and shifting quickly when you've gathered what you think are the correct set of missing pieces. The musty, old garbage odor and flickering lights will only hinder your decisions to think on your feet and move on to the next part of the room. Clues may be phoned in but be aware not to piss off the masked serial killer, who will make you feel like one of your idiot friends.
UNLOCKED co-creator Angelina Khan provides forewarning as to what you can expect from this thriller experience.
"Although the escape room features some elements of horror, the experience is more suspenseful than scary," Khan said. "UNLOCKED is an escape room venue, not to be confused with a haunted attraction."
UNLOCKED is a horror themed escape room with puzzles and missing clues when solved, allow you one step forward to breaking free from the imprisonment of the Sandman's capture.
The inspiration for UNLOCKED, according to Khan is that "every October, we do a couple of haunted attractions, Haunted Plantation and The Outbreak Experience. In addition to these seasonal events, we really wanted to produce some kind of horror-themed experience that would work not only in October, but throughout the year. Last year, in February, we did an interactive horror play called 1706. This year we wanted to try something a bit more permanent, so we came to the conclusion that a horror-themed escape room would be perfect."
"This is my first time. I was actually a little surprised, it caught me off guard to be completely honest," Chaminade Business Administration senior Mattie Flisk said. "There were moments where I was completely tense. There were some jump scares that got a little scream out of me."
You can visit the UNLOCKED website to find out more information and reserve a time for you and your friends.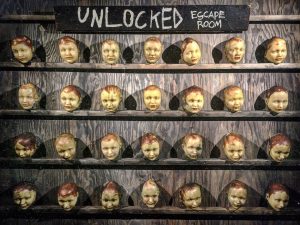 "Our goal in creating this experience was to have a setting in which participants are totally immersed," Khan said. "We currently have one escape room as we like to focus on quality over quantity."
So far, UNLOCKED has had more failures than successes, with a 13 percent success rate.
"It was actually as challenging as I thought it was going to be," Flisk said. "There is added pressure. There is some help from our captive, so that was helpful. But the pressure of having him constantly berate us to get it done then everyone frantically trying to find the clues that he wants us to find that made it a little chaotic, which added to the difficulty."
When asked if he would go back again Flisk said, "Definitely, I would love to go back there."
UNLOCKED will be open through the beginning of January 2017.