Communication Club opens up the mic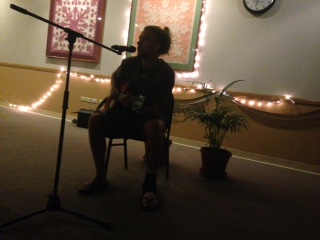 On Friday at the Ching Conference Center, dim lights, candles, and live music soothed the stressed minds of many hardworking students.
"Our overall goal for the Open Mic Night was to bring people together one last time to unwind and socialize because we understand that this time of the year everyone is stressed out about finals week," said Shyanne Rippole, a Communication Club member and an Open Mic participant.
As finals week approaches quickly, the Communication Club took it into their own hands to bring a very relaxed, coffee shop vibe to the campus. The event went from 6 p.m.to 10 p.m., where students, sang, played guitar, resighted poetry, talked story, and told jokes.
Several talented Chaminade students — includingJack State, Shyanne Rippole, Bronson  Kukonu, Nick Kurosawa — performed their best work in front of more than 40 spectators.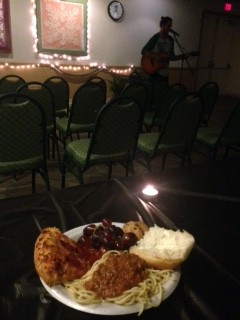 State, a sophomore from Pittsburgh, was by far the most prevalent performer throughout the night, playing several crowd recommendations without a hesitation. From Jack Johnson to Ed Sheeran, State performed like a true professional. The son of professional musicians, he has been performing since he was young, playing both the piano and guitar.
"This is something I do a lot," said State, who played at least half a dozen songs. "My dad and I play at a lot of restaurants back home. I may not get tipped a hundred dollar bill at Chaminade, but at least the free food is great."
The Communication Club made it a point to keep the food coming all the way through the four-hour event. There was penne pasta, spaghetti, pizza, dinner rolls, fruits, chips, cookies and more. It even had a non-alcoholic cocktail-style drink station where juices and sodas were mixed with sliced apples and pineapples.
The food was kept warm throughout the night. The pasta and sauce was kept warm with heated aluminum chafing dishes and instead of ordering the pizza all at once, the club ordered to separate deliveries to achieve maximum freshness. Grapes, strawberries, donuts, and homemade cookies were available for those with a sweet tooth. Many students who stayed until the end were able to take food home.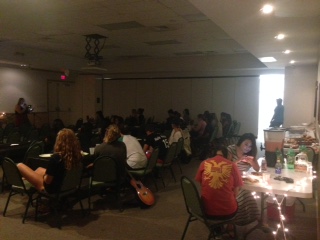 "Our executive board has been very enthusiastic about asking for donations from local businesses," said Chantelle Aguilar, a Communication Club member. "In this semester alone we were able to acquire more than $200 worth of gifts to give."
In between the various performances, small games such as bingo were played to keep the audience engaged and to allow it to interact with one another. Although the night wasn't a competition, the club rewarded people for participating in the event. Six bingo winners were given $5 each while several performers got $15 gift cards to local restaurants such as The Nook, Neighborhood Bistro.
The night was full of good food, and a lot of it, laughter, and worry-free self expression. The room seemed at ease, it was hard to believe that finals were only a week away which was the club's overall goal.
The Communication Club was pleased with the turnout with both the Video-Game Showdown, on March 11th, and the Open Mic Night. Next semester the club plans to host several more fun and interactive events to bring students together.