Celebrating Extravaganza 2016
This year's International Extravaganza, at Chaminade University, is one that will be remembered by those who attended since it served as a tribute to several individuals, and many were going to the event for the first time.
The original purpose of the event is to encourage the school's idea of cultural diversity within the community by giving student clubs the opportunity to perform dances, customs, and traditions from different cultures. The director of Student Activities and Leadership, Spencer Darden, liked how this year's six clubs incorporated students from other walks of life into each group.
"One of the cool things is that for all of the clubs, even if you're not a member of that culture, you can still perform," Darden said. "So we have students that are in Tahitian Club, for example, that might not be Tahitian, or the same with Lumana'i O Samoa."
Darden also expressed that one unique feature for this International Extravaganza was that it would be honoring his predecessor, Blaise Anthony Kepo'okelaokekai Baldonado, who unexpectedly passed away on Aug. 6, 2015. The Lumana'i O Samoa dance was preceded by a memorial to Baldonado, who was also commemorated through a slideshow.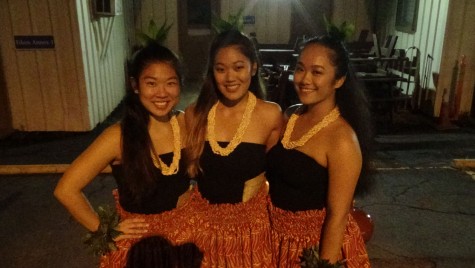 Extravaganza also celebrated Chaminade's 60-year anniversary. The institution has been operational since 1955 and was established by Marianists that desired to start a Catholic university on the island. As the university celebrated its 60-year anniversary, it also said goodbye to another staff member. Dean of Students Grissel Benitez-Hodge is currently finishing her last semester at the university and will be leaving afterward. She was welcomed on the stage during International Extravaganza and thanked for her hard work at the university.
The number of memories created that night grew by the moment.
The younger members of the clubs were enjoying themselves during the event and loved the opportunity to perform with their friends. Sophomore Brandy Afos, 19, of The Filipino Club thought it was an amazing experience that filled her with adrenaline. She loved every moment of the performance and said she had a great time. Afos said that there was a message behind their dance and costumes that would help teach the audience about the Filipino culture. Afos said that she and the other club members had worked on the choreography of the performance for more than two months. The week leading up to the event was filled with hours of practice every night. She was satisfied with the way they performed and was glad for all the hours of preparing for the event. It was necessary to properly portray her culture though.
Senior Starr Sanchez is the president of the Indigo Lotus club, which focuses on belly dancing and promoting Middle-Eastern culture through dance. The club performs annually at International Extravaganza and has been active for five years. This year was incredibly personal to her because it would be her last performance.
"This Extravaganza meant everything to me because it's my senior year," Sanchez said. "Most of the people in this club, we started together four years ago, and we're ending together now. So, it meant everything to have our members altogether performing one last time and even the new members. They did so amazing, and I'm proud of them. I'm glad I'm leaving it in good hands."