$1 million donation to create new athletic center
A $1 million donation from Dr. Edison Miyawaki will provide Chaminade with a new athletics center.
The 3,442-square-foot center will be named the Dr. Edison H. and Sallie Y. Miyawaki Family Athletics Center, which will come equipped with two men's locker rooms, two women's locker rooms, showers, a training room and an officials' room.
Athletics director Bill Villa is excited for the new center and is especially ecstatic for the students. He is thrilled to witness the enhancement of the program — which has been part of the strategic plan for years — come to life.
"Chaminade athletes are very lucky to have someone like him who is able to financially support our program to enhance our facilities and bring the program to a competitive level," said Villa in an interview in late October. "We are lucky!"
The center will be constructed sometime in 2017 and is expected to be complete within 12-15 months. It will be constructed mauka of McGabe Gym (between the gym and the road)Courtesy of Bro. Bernie
with the allowance of a 6-foot breezeway to separate the two buildings.  One part of the center will be comprised of restrooms, men and women locker rooms for visiting teams. The other will have a training room, restrooms, an official room, men and women locker rooms dedicated to Chaminade athletes.
"One of the thrills of being president is seeing things go from condition A to condition B. I am very excited," President Bro. Bernie said during a tour around campus.
As of now, Chaminade has limited resources, which the new Dr. Edison H. and Sallie Y. Miyawaki Family Athletics Center will be expected to address.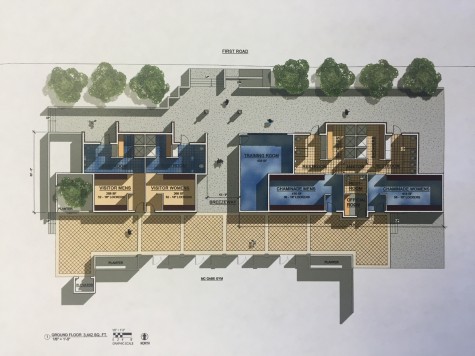 Courtesy of Bro. Bernie
For example, the Henry Hall women's shower room is located in the lower level restroom. There are four separate showers just a few feet away from the public restroom stalls, and a handful of lockers.
The athletics training room is tucked away to the right of the security office and is composed of two rooms. The first room includes space for lockers, a four-head open shower for men, and a changing room. The changing room would be turned into a rehab room when needed.
A few steps down the hall is the official trainer's room, which holds a few beds for the trainer to do work on athletes. Five years ago, Chaminade did not have an on-staff trainer but that has changed.
"That's how meager our facilities are," Bro. Bernie said as we made our way back to his office. "You wouldn't call what were doing now doing it right."
It is important to Bro. Bernie to provide athletes a competitive experience and reasonable facilities that support the student-athletes. The new center will give the "athletics (an) infrastructure you would expect if you were an athlete looking to play at Chaminade." It is also important to provide facilities for visiting teams that currently are given a classroom to change and then wait anxiously in the Henry Hall Courtyard until game time. Visiting athletes would then have to wait until they get back to their home campus or hotel to take a shower.
All of that is about to change with Miyawaki's donation. A previous member of the board, Miyawaki is a prominent person in Hawaii and a big sports fan, according to Bro. Bernie. Miyawaki is the co-owner of the Cincinnati Bengals in the National Football League and Cincinnati Reds in Major League Baseball. In addition, he has founded the athletics gala (for which he himself has provided significant support) that is going into its eighth year and has grossed more than $1 million.
"Over the years we've developed a relationship with Dr. Miyawaki, who pushed that athletics done right is a great addition to the school. Not everyone is going to be an athlete, but a portion will," Bro. Bernie said.
Moreover, while the center will be a great contribution to the institution, there will always be room for growth. In fact, Bro. Bernie has two visible projects he would like to address very soon, and that would be the elimination of the Eiben containers and altering the landscaping on campus.
The shoebox-like containers are located behind Eiben Hall and are office spaces for athletics coaches and music practice room for students. Removal of the containers will open up the area for the library lawn and courtyard, giving more opportunities for special events. Bro. Bernie would like the design team to creatively play around with the landscaping between C.T.C.C Hall and Henry Hall. This change will allow people to skip the stairs and instead provide a direct path to the library and the upper level campus.
"There is a long-term plan for the campus development," Bro. Bernie said. "It's really pleasing to see that we were able to achieve so many things."