Honolulu traffic cripples commuting students' lives
The constant traffic jams in Honolulu have frustrated two local women who are forced to commute to Chaminade University of Honolulu each day. Twenty-year-old Lilia Maio and 19-year-old Gabrielle Hernandez deal with the everyday stress that the necessary commute and nonstop traffic is taking on their lives.
Both women were fed up with the amount of time it took to get to the Chaminade campus and back to their respective homes each day. Maio was frustrated with the traffic conditions coming from her home in Nanakuli were each morning.
"It sucks," she said during the third week of school. "If there was no traffic it would just take me 35 minutes to 40 minutes to get to school but with traffic it takes like an hour and a half."
The headache that Maio and Hernandez face each day is common for students on Oahu. To save money, they live farther from campus but have to spend 10 hours a week just going back and forth.
Maio lives 30 miles away from school. That would mean she is moving, on average slower than 20 mph, much of it on a freeway.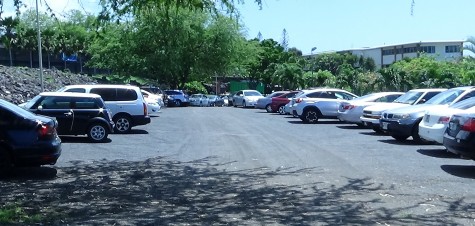 Honolulu has been one of the worst traffic centers in the nation for the past several years. In March, Hawaii News Now reported Honolulu traffic was ranked third worst in the country.
"It's very discouraging," state transportation director Ford Fuchigami told Hawaii News Now. "We need to go ahead and figure out a way to basically try to alleviate that."
Hernandez seemed to share a similar sentiment toward the traffic issues concerning her 24-mile route coming from her home in Ewa Beach each morning at 6 a.m.
She expressed in the interview that the long hours in the traffic were incredibly upsetting. It would cause her to sacrifice much of her free time in order to get proper rest and her school work completed. Hernandez complained about how the lack of time caused her to be late to class on a regular basis.
Maio went more in depth about the situation. She stressed that Chaminade has not done much to lighten the load on commuters.
"More parking because it's filling up fast now. It's worse than last year," she said. "Or like cheaper parking passes because a lot of us can't spend $185 (a semester) on a parking pass. It's hard."
As the interview progressed, it was revealed that these traffic issues would also start to cause a performance problem in the women's school work. The root of the problem was an obvious lack of sleep caused by waking up at 4 a.m. and leaving at 5 a.m. in order to successfully avoid the traffic.
According to Dean of Students Grissel Benitez-Hodge, 911 of the 1,222 enrolled students commute to Chaminade. Both of the women decided to give out a few tips to help other students. They agreed that packing all of your books and equipment the night before was a good idea. This would allow them to ensure they did not forget any of their materials for any of the classes, since they would be too tired to remember in the morning. It would also reduce the required time for their morning preparation before being able to leave their homes.