CUH Student Kickstarts Clothing Brand '3rd Avenue Attire'
3rd Avenue Attire is the small business and brainchild of third-year Interdisciplinary Studies major Jackie Martinez, whose inspiration to start up her business catalyzed from a competition her COM360 (Social Media Marketing and Communication) class is participating in.
"Jackie's creative design and how she thinks is just unlike anyone else," said Lara Baldwin, Martinez' roommate and third-year Environmental Science major. "Even a conversation with her is just so much more engaging and fun than anything else, and her work shows that."
The CUH School of Business started its first-ever small business competition this semester, in which students enrolled in business, marketing, and social media classes were responsible for creating and piloting their own small businesses. Each company was allocated $250 in seed money, and whichever competitor wins is awarded $2,500 to pursue continuing their business in full.
Other businesses in the competition include Washed Ashore, Silversword Sweets, and a couple others. 
Some students among these three classes were required as part of their grade to enter the competition. In Martinez' case, all COM360 students were supposed to be assigned to a group to market their business using the knowledge gained from the course. 
Martinez, who's from Chalan Pago in Guam, was originally participating in the project as the supplemental social media manager for whatever business her group mates, the students enrolled in the business course, created. However, due to conflict in scheduling she decided to take it upon herself to create an entire business to market social media content for instead of the prior arrangement. 
"It wasn't intentional that I ended up doing all the work," Martinez said, "but because I had all the supplies and I was the one designing everything and since the money was in my account, it just kind of ended up falling on me."
Originally, Martinez intended for 3rd Avenue Attire to create unofficial merchandise for music artists. However, the competition connected each group with a business advisor for guidance and from there Martinez was advised to take a different route due to the legal issues that could possibly arise. 3rd Avenue Attire then pivoted and evolved into a business that calls attention to global awareness issues through screen printing designs Martinez drew onto unique pieces of clothing. 
Martinez proceeded to say that she has a bit of support in running 3rd Ave, whose name originates from the cross streets of Chaminade, Waialae and 3rd. Her fellow group members came up with the namesake, and her roommates have been a huge help in standard operations. 
"We've helped her with some of the screen printing process to actually get the designs onto the shirts, finding the shirts, and what ways to make it sustainable," Baldwin said. "We kind of help a little bit with those ideas and the screen printing. Since we don't have a full kit to do it or a whole dedicated room for it, it's a little bit more difficult, but we got it down."
All of the screen printing process and the majority of 3rd Avenue Attire activities take place in Martinez' residence hall. 
"It'll start with designing the item on my phone usually," Martinez said. "From there, I take it over to get it printed on transparent paper. Then I have to prep the screens and do all the photo emulsion stuff. Heat-set it so that the design can get burned onto the screen, [and then] wash them."
Although having to step into the role of small business owner was unplanned, she viewed the opportunity as a way to pursue a creative endeavor she was already contemplating.  
"This was something I had been wanting to do way before [the competition started] so it was a lot easier for me to pull ideas and push them forward with passion," Martinez said.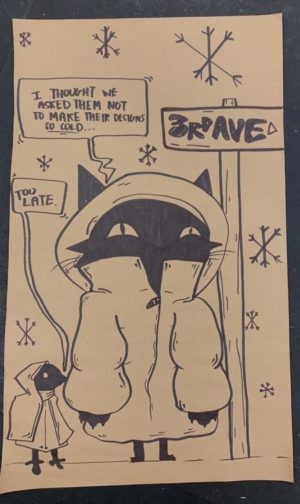 Currently, the clothing brand has held two launches of 22 screen printed T-shirts total. The first launch, which was set to be a test batch for the screen printing process, featured the company's logo. The second launch, named the "World on Fire" collection, featured four artwork designs centered around the climate crisis. 
The brand places three main values at the forefront of its operations: sustainability, social justice, and individuality. 
One of the ways Martinez prioritizes sustainability for the business is through the packaging process. Each order is wrapped in a paper poster that includes a hand-drawn art piece by Martinez to promote minimal waste production. 
"We didn't want people just tearing off the wrapping and throwing it away," Martinez said, "so I came up with the idea to put a drawing in there that obviously took a little bit of time and effort so that they're less prone to just ripping it off and throwing it out."  
Beyond this, 3rd Avenue Attire recently introduced the "Treasure Your Trash" initiative into its business model. Through this process, customers can bring their own clothing article, and choose which 3rd Ave design they wish to have screen printed for $10, or request a customized design for $30-$40. This offer incentivizes upcycling and repurposing clothes to keep waste low. 
Each design is created at a fixed amount to ensure overproduction is avoided, but additionally to embrace the idea of individuality through clothing that the brand prides itself on. 
"A lot of people forget about how the things they wear have so much expression that comes from that," Martinez said. "The appeal of printing less than 20 shirts each round is that they would be limited-edition. Also, how each of them promotes something important and not just have random designs and random words was going to be something that showed our values."
The Guam native went on to say that her passion for her 3rd Avenue Attire creation and the emphasis on uniqueness will be what separates her business from its competitors. 
"I have a certain level of quality I like to produce regardless of what it is," Martinez said. "With our brand, there's a lot of passion behind it versus just good intentions in terms of schoolwork and grades and stuff like that."
Customers can place an order with 3rd Avenue Attire via DM'ing @3rdaveattire on its Instagram page. Accepted payment methods include cash, Venmo, and PayPal.