Chaminade Students Launch 'Washed Ashore' Business
Marketing, accounting, and social media students enrolled at Chaminade had the opportunity to join a business competition. The competition began in mid-October, will raise a profit and make a difference for the local community. This gave Christopher Diego, Josh Byrd, Michael Cruz, Amber Kuitunen, and Kelsie Inoue the chance to start up their own business known as "Washed Ashore," which has received positive feedback from students and people interested in their eco-friendly products. 
"Washed Ashore is an environmentally friendly company that is solely focused on cleaning up beaches and repurposing plastics that we find on the beach and turning it into beautiful pieces of necklaces and jewelry," said Diego. "Washed Ashore combats the issue of repurposing trash found on the beach."
"Some classes made the competition mandatory to join. Our Marketing 301 class made it optional," said Diego, a third-year International Trade major.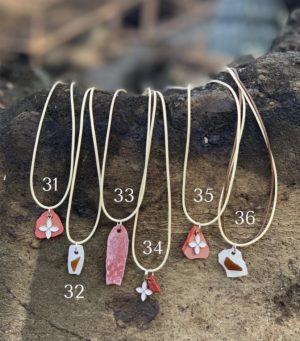 Each student business was given $250, from Chaminade, to start their business which included buying accessories for products, packaging materials, and tools. The Washed Ashore students spent their company money on a drill, a sander, charms, and bags to package their jewelry in.
Washed Ashore announced the launch of their business on Oct. 20 via an Instagram post that said it is an eco-conscious jewelry line. Its products are made from micro-plastic and other objects left on the beach. Their goal is to bring awareness and encourage others to be conscious of what many people leave behind at the beach and hope to show how they can make a difference by making necklaces out of the things they find.
"Growing up, you see all the issues our islands have with trash and pollution on the beaches," said Cruz, a Kauai native. "We bring a very creative aspect to our brand and an eco-friendly company to make a difference." 
Each person involved in Washed Ashore is responsible for fulfilling their role in the business which means Byrd, Cruz, Diego, Inoue, and Kuitunen are all responsible for collecting plastics they find on the beach, shaping and sanding them, then finally packaging and distributing. In addition, Inoue handles the social media part of the business which entails dealing with customer orders. And Kuitunen handles the finances and profit of the business. 
Cruz, a third-year Psychology major said that the time and effort was a challenge thus figuring out everyone's schedule. Still, the members of the business had a good time managing. 
"We have a drill tool that we use to shape our products and try to see what kind of shape the plastic resembles and shape it into what looks appealing to wear," said Cruz. "We sand down our plastics and smooth all of the products." 
As a group, they decided on a fair price based on the time and effort placed  into making each necklace.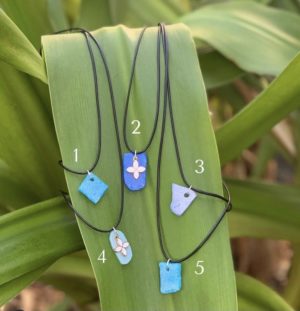 For the business to have a variety of products for customers to choose from, the five students go out to specific beaches separately and find pieces to bring back to eventually set aside a day to meet up and make their products as a collective group. 
Social media has become the largest platform for starting a business and spreading the word. According to Forbes, 82% of consumers trust a company more if they are involved with social media. According to Vocus, 85% of customers expect businesses to be active in social media.
"When we first started we had zero followers on Instagram and it wasn't so much of a craze," said Diego. "Within the past week and a half after we launched, we went to about 105 followers."
The business has mainly been advertised amongst Chaminade students, but it is also open to customers who don't attend the university. The business partners have spread the word of the company through social media but also by word of mouth on campus and through friends and family.
For Diego and Cruz, starting their business has opened more opportunities to continue their business in the future, even after the competition. 
"I could see our business going far and if it does, I wouldn't mind taking it to the next level," Cruz said. "We are testing the waters now to see how well we do with the necklaces and if it does well and we see our customers' feedback, maybe we will end up doing bracelets as well."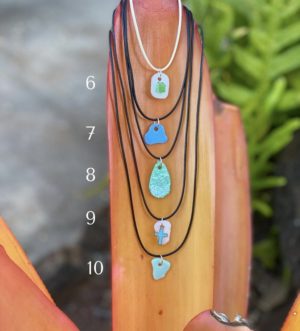 At the end of the business competition, Washed Ashore will donate 10% of its profit to beach clean-up groups to help fund them and their efforts to save local beaches.
To purchase a Washed Ashore necklace, send a direct message to the business via their Instagram with the number that correlates with the necklace you wish to purchase that can be paid with cash, Venmo, PayPal, or Cash App. Once a necklace is purchased, Diego will coordinate the delivery at your convenience. Washed Ashore sells its necklaces for $10 each. 
On Dec. 8, Chaminade will award the winning business of the competition $2,500. The other businesses participating in this competition include Silversword Sweets, We Over Me Hawaii, and 3rd Avenue Attire. 
To find out more about the business, check out Washed Ashore on Instagram (@washedashore808) for updates on new jewelry products and items that are still available for purchase.