A CUH student
Ryan Nishimoto, a 20-year-old criminal justice major, is originally from California and lived on a ranch, and prides himself to have lived off the land. Nishimoto's dad is a doctor and finds joy in cooking, wine tasting and gardening. His mom is a math teacher for elementary students but now is a stay-at-home mom who takes care of the finances and does "all that stuff that no one else likes to do, but she's very good at it," according to Nishimoto.
His most memorable memory from the past is when he was chased through Chuck E. Cheese's by the iconic mouse, Chuck, for 30 minutes straight before being saved by his parents. Since this event Nishimoto as had a deep phobia of people dressed in full-body costumes.
Nishimoto has been part of scouts since third grade and entered boy scouts by sixth grade. During his time in the scouts, he developed leadership qualities and learned the importance of self-reliance and responsibility. Nishimoto learned through scouts that communication is a key source for success as it gave him responsibility and an opportunity to learn about organization.
According to Nishimoto, through scouts he learned much about personal growth and self betterment, he gives thanks to his Japanese upbringing for making him into the person he is today.
Nishimoto 's father was brought up by rule abiding Japanese parents on Hawaii and enforced the same strictness in his own household while bringing up Nishimoto and his younger brother. He remarks on how his upbringing was very similar to the Japanese stereotypical household where good grades are required, there is little or no tolerance for mischief and corporal punishment will be enforced. Nishimoto elaborates on the corporal punishment portion.
"They [his parents] wouldn't just spank me to spank me. They would tell me why [he was to be punished], then they would spank me."
Though his parents agreed with their methods of discipline, they differed when it came to his grades.
"I would always get, 'you can do better', from my dad. And then from my mom, it's always, 'you did well on this, but let's try to do better next time,'" said Nishimoto of his report cards. "So it was good because they kept pushing me to do better and better. And it was nice that my mom could recognize how hard a test was, and my dad kept pushing me to do my best, no matter how easy or hard the test was."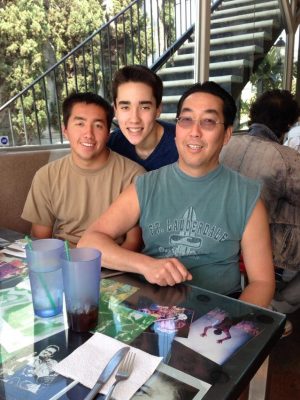 Though brought up with the same values and same morals, Nishimoto and his brother Kyle are very different. While his has vehemently followed his parents teachings and kept up with the Japanese ways, his brother Kyle has struck out on his own. Though he is still learning to balance school, exercise and his social life, Kyle has taken the creative route, while Nishimoto has taken up a more routine oriented life style similar to that of his mother and father.
Nishimoto believes he is very much influenced by the Japanese culture. The respect for elders and being considerate of other people before one-self is practiced daily, which makes his choice of major seem automatic. Nishimoto remarks on how his increasing knowledge in criminal justice has a great influence on his thinking process.
"[Criminal Justice] makes me aware of the laws and the circumstances which run this country," he said. "So I'm aware of what things can happen to you, if you do a certain thing. But I'm also aware of legal defenses legal actions to attacks. So that's basically what shapes how I think."
Although completing his criminal justice degree is his ultimate goal at this point in his life, Nishimoto has a deep desire to travel the world and experience new cultures and try new flavors. Already Nishimoto has been to Italy and Israel. On his bucket list Nishimoto would like to visit Ireland and Scotland before visiting any other part of Europe.