Top 10: Food Trucks On Oahu
Hawaii is known for its unique styles of food as they mix different nationalities into one plate. This can be seen in events such as Eat the Street or Art+Flea. For events such as these, food trucks from across the island come and share a taste of their culture. Some of those include Mexican, soul food, Filipino and even some sweet treats made here.
Waimanalo Country Farms
Waimanalo Country Farms make fresh lemonade with different types of flavors such as strawberry, mango, pineapple and a Hawaiian exclusive li hing flavor. The lemonade is typically served in a mason jar but can also be bought in a regular cup. The mason jar can be brought in to get a discount on your next drink. It is as sweet and tangy as far as lemonade goes, although the li hing flavor really adds a kick to the lemon.
      2. La Roux New Orleans Cuisine
Now as far as New Orleans cuisine goes, I have only gained my knowledge from the Disney movie "The Princess and the Frog". It was only until stumbling upon this food truck that I had my first taste of a beignet. While not as sweet as anticipated, it was something completely new. This is truly bringing the south to Hawaii. While not only providing desserts, La Roux also brings  delicious gumbo and jambalaya to Hawaii's locals.
3. Taco Chino
One of the best places to pick up a homemade taco. Better yet this taco truck brings it back from the heart of Los Angeles, where taco trucks thrive. Not only does it keep with traditional street tacos with two tortillas as a base, cilantro, salsa, lemon juice, your choice of meat such as carne asada and finally onions to top it all off.   
4 .Chubbies Burgers
These burgers may look small, but they will fill that hunger. El Rey, one of the many burgers offered at Chubbies, has avocado and bacon with a traditional burger style with onions and cheese. Add a side of fries to that order and you might just be overstuffed with joy.
     5. Pop Pop Donuts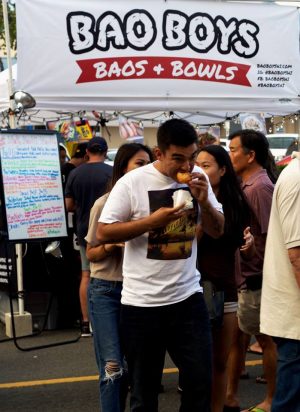 These doughnuts are not the traditional circular mass of dough. Rather they are what people have been missing out on, the doughnut hole. Served in a bag or in a small container these doughnuts can be topped off with powdered sugar, chocolate sauce, or eaten fresh off the press. Each batch comes with six to seven doughnut holes.
6. Taste Tea
Although it is based off a location near Ala Moana, Taste Tea can still go on the road selling different kinds of tea. Taste Tea has a variety of flavors ranging from sweet tea like Fruity Pebbles to simple fruit teas such as mango, most of these teas can be infused with a type of jelly tapioca or coconut.
      7. Aloha Pops
Aloha Pops' slogan "Bringing out the kid in you" is spot on. Each flavor of popsicle is sweet and brings back the childhood memories. Some flavors include Cinnamon Toast Crunch and regular fruity flavors such as watermelon.
      8. Fiesta's Mexican Grill
Where Taco Chino only focuses on tacos, Fiesta's covers all grounds for a Hispanic cuisine, serving quesadillas, tamales, rellenos and many more Hispanic foods and drinks. This truck will take anyone from Hawaii and instantly transport them to Mexico as the food is authentic.
9. Elena's Food Truck
Elena's is a taste of Filipino dishes that include adobo and egg and rice omelets. With a colorful truck with superheros on it, this truck is sure to bring in curious customers to see what this is about. Sometimes it add its own flavors to traditional Hawaiian dishes such as the loco moco.
10. Taste Yum Indian Grill
Curry has never tasted better than the servings here. This truck has a side stop for those who are in a rush to get their delicious samosas. The side stop is for food pre-made and ready to serve in less than a minute, whereas the actual food truck takes some time to create a beautiful dish. Selling everything from naan bread to yogurt lassis, all food from an Indian restaurant fits right inside this little truck.