Two clubs merge to create new Filipino club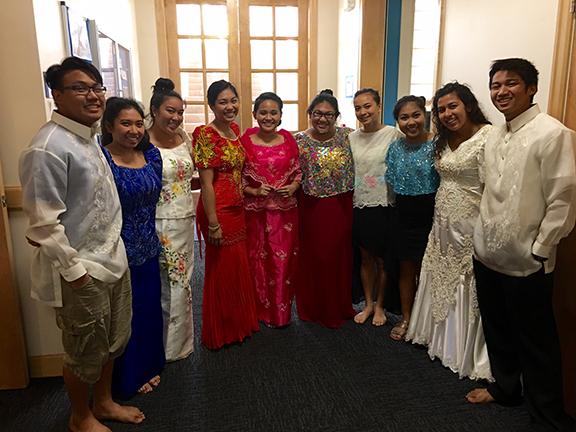 In mid-January, during Chaminade's annual Club Fest, two groups noticed they were quite similar.
The Kabayan Club was seated not far from "Thank God I'm Filipino Club." Both clubs were focused on the same culture: Filipino.
The two groups ended up talking. Both clubs met with OSAL director J. Spenser Darden and OSAL assistant director Sam Kishida. After the meeting, the clubs decided to unite under The Filipino Club (TFC) and tossed out the hierarchical titles of president and vice president. The club now has a whopping 120 members, seven executive members and three staff/faculty advisers.
"I like how both clubs decided to merge together to make one Filipino club,"said Gabrielle Fernandez, who is the executive chair of fundraising for the new club. "That says a lot, because as Filipinos we stand strong as one whole and with all our hard work and dedication, we can all make a difference in the community. I enjoy the social events and any time we hang out with each other because we get to know each other more. Also, it helps our club grow even stronger, and that is what makes a true Filipino."
So far, TFC had a Club Rejuvenation and Karaoke Night in February at the Loo Center. The club celebrated its comeback the way Filipinos know best: food and karaoke. The club also had a Manny Paquiao Documentary Social, where the club gathered in the Loo to watch the documentary and enjoy refreshments.
The first fundraiser was held on March 14, which was chicken adobo, pancit, rice and Shanghai lumpia plate lunch. This fundraiser money helped pay for its Extravaganza costumes.
TFC members must pay $5 dues in order to join.
Extravaganza was the club's first major public appearance. The Filipino Club, with 13 women and five men, performed four dances overall: subli, pandanggo sa ilaw, and tinikling (both a traditional and modern version).   
The subli was a nice, lively and breezy dance, but the famous dance of the Filipino culture was saved for last. Tinikling originated from the central area of the Philippines and consists of two people clapping bamboo sticks together while the dancers moved through the sticks. The name "tinikling" is a reference to the tikling birds found in the Philippines. The dancers mimic the movements of the birds through the crops.
The club's Extravaganza performance was unique and had the crowd cheering. 
The club wore traditional chiffon and silk, shiny, solid-colored skirts and shirts for the females while the males had plain white shirts and black pants.
Extravaganza was a great experience for the members, giving them the opportunity to interact more with each other and celebrate the Filipino culture.
"We knew we would be serving a large Filipino community, and it only seemed right to go this route so that we could better accommodate everyone's needs," said Chantelle Aguilar, the club's executive chair of communication. "All of us had to put away our personal wants/needs and look at the bigger picture, we had to ask ourselves how could we better serve the Filipino community."