Former Chaminade soccer player starts charity in Africa
Sian Davies went to South Africa in Summer 2014. Sian went to impoverished areas around Cape Town with her friend Cleo Notcutt and saw young boys playing soccer with water bottles instead of balls. Sian and Cleo brought the boys a ball from a store and were dumbfounded by the delightful response. The idea of a soccer-based charity had blossomed from that moment. Kick for Africa collects donated second-hand, and sometimes new, soccer equipment and delivers it to poverty-ridden areas of South Africa.
Sian's brother, Matt Davies graduated from Chaminade University in May 2015 after playing for the men's soccer program for four years. The Australian native now works full time in Tennessee but spends a lot of time improving his own charity, Kick for Africa. After leaving Honolulu he took a lot more than just his business degree with him, he also left with true aloha spirit and the real meaning of ohana. Matt Davies and his sister Sian are co-founders of Australian-based charity, Kick for Africa. A charity that helps third-world children play safely with donated first-world soccer equipment.
"We have a partnership with Football NSW, the governing body of football within the state of New South Wales," Matt said. "We also have constant donations coming from A-league sides Western Sydney, Central Coast and Sydney FC. Currently we have collected 7,000 donated items."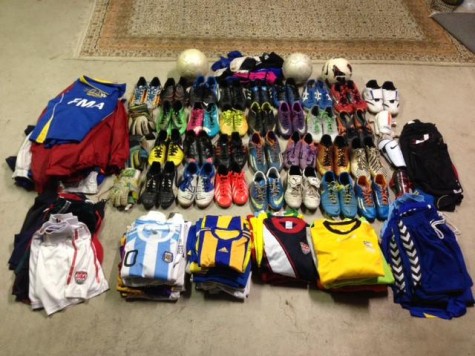 Teaming up with professional soccer teams and soccer associations in Australia is a huge milestone for such a young charity. After only registering in October 2014, the barely 1-year-old charity plans to expand even more so in coming years.
Matt, Sian and Cleo are confident that the charity will continue to grow. Matt wants to expand Kick for Africa and set up in surrounding countries, he dreams of one day making KFA continent wide. "As of right now KFA is focusing on South Africa because we have connections there, and Cleo, one of our founding members, lives there, which makes it easier to ship donated items," Matt said. "Once we have found our feet in South Africa and found the best way to transport the soccer gear, we will look to expand to other countries. We have not decided where our next destination will be. We have had some soccer clubs from countries such a Kenya and Zimbabwe contact us, asking for help so that is something we are looking into."
Kick for Africa raises all of its money from private fundraisers, donations and charity events. If Matt, Sian and Cleo's story inspires you, check out the official Kick for Africa Facebook page here. Sian's next trip to South Africa is next week and hundreds of lives will be brightened by the arrival of donated Kick for Africa kits, boots and balls. Kick for Africa will document the trip and will have a short documentary available to encourage and educate people about their mission. The trailer for the documentary is available on the Facebook page.
Matt, Sian and Cleo's simple idea has sparked into a heartwarming charity that spreads love by allowing children to play sport. Matt uses his business degree to help with the financial side of Kick for Africa, and he said that with the knowledge attained from his degree, his sisters ideas, Cleo's connections and the love and giving spirit of the people donating, he feels as though he is providing happiness to the children of Africa through the boundless love of soccer.