Wow Wow Lemonade has a shop of its own
Bigger than just a lemonade stand, Wow Wow Hawaiian Lemonades have started where all small aspiring vendors do, farmers' markets.
Born in the Farmers' Market in the Summer 2012, it now has a shop of its own located in the heart of Wahiawa and in the old Haleiwa town.
Wow Wow can still be found at the Pearlridge Farmers' Market on Saturdays from 8 a.m. to noon, Kailua Town Farmers' Market on Sundays from 8:30 a.m. to noon, and Eat the Street every last Friday of the month from 4 p.m. to 9 p.m. in Kaka'ako.
The Wahiawa location was open for business in the beginning of this year, whereas the Haleiwa location had its grand opening on Sept. 20.
Wow Wow's goal is to serve every part of the community; from Hawaiian farmers by using locally sourced fruits to produce its lemonades, customers by providing refreshing drinks that are a source of pride, and to its community by providing jobs to young people and investing in their future success.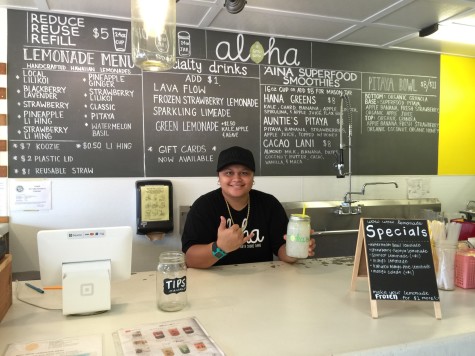 Noelani Maglinti, graduated from Chaminade in May and has been working for Wow Wow Lemonade as a market supervisor for about a year and a half.
'"I like the whole morale behind Wow Wow," Maglinti said. "I enjoy coming into work because I enjoy it. It's upbeat and has a positive feeling."
According to the company's website, Wow Wow strives to provide uniquely crafted flavors that feature Hawaii's finest fruits.
With produce from local farmers, Wow Wow was able to create 15 unique flavors such as Da Green Lemonade with locally grown kale, the Lava Flow (which is like a coconut lemonade), or Makai Watermelon Basil with Big Island seedless watermelon and Kumu Farms basil.
"Sometimes Street Grindz (Eat the Street) ask us to come up with a flavor reflecting on their theme," Maglinti said. "Or sometimes we try to get a feel for something reflecting the season."
Squeezing roughly around 250-500 lemons on an average day, Wow Wow's relationship with the community and its costumers has only increased since it opened the lemonade stands.
"Social media does wonders," the 23-year-old Maglinti said. "People from all over the world have found us through Instagram."
The handcrafted mason jars also helped with its publicity when Wow Wow had the idea of making a straw hole through the top of the jar. Striving to show aloha with every cup of lemonade, Wow Wow team members stick an "aloha" or "shoots" sticker by hand.
"It's more than just lemonade," Maglinti said. "It's love and dedication to source organic products to serve a healthier drink."
Everything from freshly squeezing lemons to labeling the bottles and jars, Wow Wow Lemonade is all handcrafted.