CUH sophomore turns the ocean into jewelry
At 16 years old, most girls are picking out their dresses for the next school dance, but Haelee Tallett was sifting through shells that her brother had found while diving. While the rest of her classmates would have been thinking about getting their driver's license, Tallett was creating a business.
Ocean Creations is a custom jewelry company inspired by Tallett's love for the ocean. When she was younger, her brother would dive for shells and bring them home. Inspiration for the crafty teenager was inevitable.
"The business really took off in my junior year of high school," said Tallett, a Chaminade sophomore. "At first I would just make jewelry for myself and for gifts in hopes of saving money, although I would always get a lot of compliments, so I started making jewelry for other people. It didn't start as a business idea, it started as a hobby."
Due to the fact that the demand for her jewelry was lower during the early stages of her business, she was able to fund her hobby by making a few pieces here and there and then selling them. All of her sales in the beginning went straight to buying more materials.
Tallett is now 19 years old and her hobby is now a business where she fills 10 orders per week. Ocean Creations makes both gold-filled and sterling-silver ocean-inspired pieces. Tallett creates rings, necklaces, bracelets, and bangles averaging $60 a piece. Her most popular pieces are her Sunrise Wave necklace and her bangles.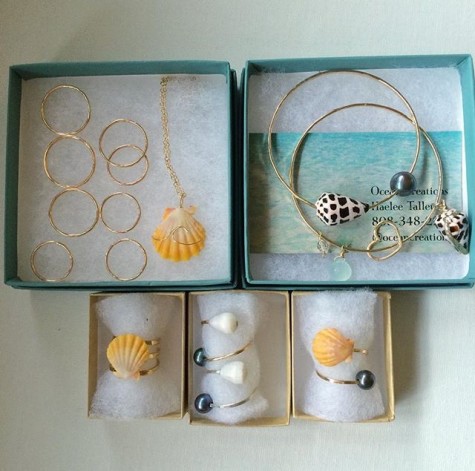 She also balances school and other hobbies. The young entrepreneur is currently taking 19 credits. She also a part of the Hogan Program at Chaminade and teaches tae kwon do classes while working at Mahina Kailua, a clothing boutique, on the weekends.
"In order to balance all of this I try my best to selected specific days for specific activities so it becomes a routine," Tallett said. "For example, school is Monday through Friday, tae kwon do days are Monday and Friday nights and Saturday mornings, Mahina is Saturday and Sunday, (Ocean Creations) is spread out throughout the week. The actually construction of jewelry is Saturday and Sunday and advertising is every day, and the lastly homework is spread out within open gaps."
With such a huge workload, Tallett needs a helping hand from time to time and who better to help than her mom, Leilani Bonds. Bonds helps Tallett at craft fairs, which require about two days of preparation. She has showcased jewelry at the Heeia Elementary School Craft Fair, the Moanaloa Craft Fair, and is working for the Blaisdell.
"My mom plays a big role in helping me with the business," Tallett said. "Everything I know how to do I'll teach her and everything she learns she'll teach me. When orders get really crazy she'll help me make jewelry – especially around Christmas time – and she always helps me at craft fairs."
Being a young entrepreneur challenging and time consuming, but Tallett's passion for jewelry making is made evident in her beautiful pieces of jewelry. Find your favorite Ocean Creations piece by visiting @OceanCreations on Instagram.