Parasailing to new heights for yet another Bucket List
And I'm back at it again.
Last time I tackled my Bucket List, I hiked up Koko Head, a miserable 1,048 stairs, and now I took it to new heights by parasailing 500 feet into the sky.
After being asked numerous times what was next up on my bucket list, it was between the choices of shark caging, hiking Stairway to Heaven and sky diving. I was completely down for shark caging and hiking Stairway, but it was so hard to choose a day and just go. Then, my friends and I had discussed skydiving and we even picked a day but we all chickened out and decided not to go.
I was then given the suggestion of parasailing. The first thought that came into my mind was that I was still going to be up in the sky fearing that I could fall to my death at any moment. The second thought that came to my mind was that one scene in "Jurassic Park 3" when the people went parasailing and a dinosaur I ate them. But last time anyone checked, dinosaurs are extinct.
So after finally convincing myself, and my classmate, Keri Fukunaga, reassuring me that I would be fine, I convinced three of my friends to come with me.
It was a clear, sunny day on Sunday morning. We had arrived at the Hawaiian Parasailing Inc. booth at the Ala Wai boat harbor waiting to get on the boat with captain Wade and his one-man crew Tucker.
While cruising out in the ocean, the water was a bit bumpy. One my friends were getting seasick, but she was able to keep it in and hang in there. As we were still driving out, I noticed how far we were from civilization. We were out in the deep blue sea. I was hoping to see some dolphins or even whales but no such luck.
While we were driving out, Tucker was giving us the instructions of what to do when getting hooked up to the parachute, the do's and don'ts and what to do if we land in the water. A lot of fears were going through my mind. I almost wanted to back out, but I was glad that I didn't and that I wasn't going up by myself.
When it was time for my roommate and I to go, I was the first to get hooked up. And right when I was getting hooked up, the guy told me I was going by myself. I thought he was just messing with me, but when he hooked the other side of my harness, I obviously knew he wasn't joking.
I just smiled nervously and threw a shaka for the camera while waiting to ascend up to the sky. My nerves kicked in even more once I started flying up. Although I wasn't screaming out loud, I was screaming on the inside. I even started praying because I was scared.
As I was getting higher and higher, my nerves slowly started going away and the excitement and adrenaline started pumping. The view from up high was so nice. You are able to see the entire Waikiki coastline. There was an occasional gust of wind that would make me swing and every time that would happen, my stomach would just drop.
Through all of that, it was just a relaxing feeling being up in the air by myself and with my thoughts. It was as if I was on cloud nine.
On the way down, I was nervous of whether or not they were going to dunk me in the water because the captain had told me earlier that my classmate, Keri, who works the booth, told them to dunk me in the water. However, because it wasn't as windy, they weren't able to and I got to land safely and dryly on the boat.
On the way back to the harbor, the captain had heard that I was writing an article about this and let me drive the boat back in. I had never driven a boat before so I was stoked.
This was an exhilarating and fun experience, and I am glad to check this off my list. I still have more items on the list, so I'm not done yet. I am glad I was able to do this with my friends and hopefully they will join me for the other adventures on my list.
About the Contributor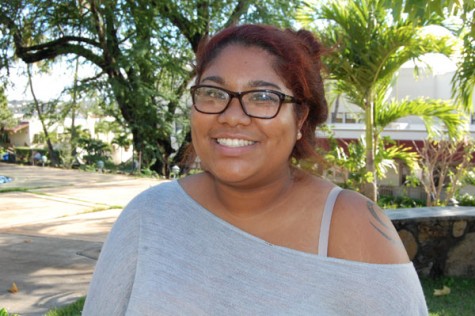 Tawnee Janae Rollerson, Staff Writer
Tawnee Janae Rollerson, a California-born native, is originally from Milpitas, CA. She graduated from Archbishop Mitty High School in San Jose, CA.  Tawnee...