Another one off the bucket list
Why did I put this on my bucket list?
As I stood at the bottom of the Koko Head stairs – all 1,048 of those miserable, horrible, dreadful, cursed steps to the top – I kept wondering why I was putting myself through this misery.
I have been dreading doing this hike. I would always say no to friends if they asked me to go. But I finally decided to give in and just do it. Many people had told me that it is better to hike this trail in the morning, but I was sure no matter what time it is, I was still going to be drenched in sweat and sore when it was over. So my friend and I decided to go in the late afternoon and see the sunset.
A few painful hours later, this hike was literally the death of me. I couldn't feel my legs by the time I had reached the top, and I am pretty sure I expressed every curse word known to mankind.
I was definitely struggling during this hike, but with the help of my friend Letisha Vaba, a senior here at Chaminade University, I was able to keep going until I reached the top. I thought seriously about turning around at the scary bridge that drops about 10 feet, but I knew that my disappointment in quitting would be worse than my fear of that bridge.
When we finally got to the top, which is about 1,200 feet, I celebrated by sitting down. Eventually, I got up and walked around, soaking in the views from the summit that looks all the way from Hawaii Kai to Hanauma Bay to Makapuu. We caught a super pretty sunset that reminded me of why I live in Hawaii.
In the end, it was worth the pain, the sore legs for days and the breathtaking view. And I will probably never do this hike again, or at least not any time soon.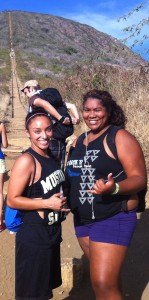 Now that I have checked Koko Head off the list, there are still so many other items to check off my bucket list. From parasailing to zip lining to camping, I'm always down to gather a bunch of friends or go on my own and embrace anything and everything this island has to offer.
Here are the other top items on my bucket list to do here on Oahu:
1. Shark Caging – A thrilling and exciting thing to do in the North Shore.
2. Stairway to Heaven – Although this hike is closed off, the risk of waking up before the sun coming up and watching the sunrise will definitely be worth it.
3. Sky Diving – Having that feeling of free falling 14,000 feet in the air would be worth that adrenaline rush feeling that everyone looks for.
4. ATV – Off-roading in the mountains and forests would be a fun time for a bunch of friends to go do on the weekends.
5. Pali Puka Hike – Being able to say that you were literally at the edge of mountain and taking in the beautiful scenery of the Windward side of the island, is what you will be expecting if you ever take the time to do this hike.
6. Zip lining – Acting as if you are Tarzan sliding down a rope in the hot forests of Oahu would be a good time.
7. Jumping the rock in Waimea Bay – Whenever you go to Waimea, you always see all the locals jumping off this big rock like it is nothing. Even little keikis are jumping off. This is a definite item to put on your bucket list.
8. Fishing – As lame and boring as it sounds, I think going fishing would be so relaxing. Especially with a bunch of friends out on a boat or even just sitting on rocks hanging out and catching some fish to eat later.
9. Ka'ena Point – I have heard that this trail is a nice and flat hike that you can do with friends or family and witness some beautiful scenery, native plants, and even see whales in the winter months.
10. Waimano Pool Trail – A friend of mine who lives near this hike has told me that this hike is a definite one to do. There are three pools that you can swim in and one even has a rope swing.
Whenever you move to a new place, there are all these new, crazy and exciting activities, foods and places you want to go do before you leave and might never get the chance to do ever again. So my challenge for all of you is to go and make a list of all these things you want to do before all your four years at Chaminade pass you by.
About the Contributor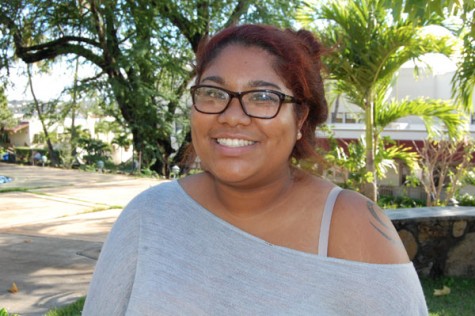 Tawnee Janae Rollerson, Staff Writer
Tawnee Janae Rollerson, a California-born native, is originally from Milpitas, CA. She graduated from Archbishop Mitty High School in San Jose, CA.  Tawnee...