Takumi: A Little Taste of Osaka
Takumi is a small hidden gem located near the Foodland and Teddy's Bigger Burger in Kapolei. It opened earlier this year, and at the suggestion of my good friend (the internet) I decided to go out and give this place a try.
When entering the restaurant, there were a good amount of tables inside of the restaurant (they also have ample outdoor seating), they had a well-stocked bar, and the décor and lighting were tasteful, simple, and pleasant. There were a couple chefs up front cooking food on the teppanyaki grills, and we were greeted with a friendly "Irrashaimase!"
Takumi offers many unique appetizers and dishes. The first appetizer that we tried was the pork belly kimchi with tofu. This was one of my favorite dishes, and it was packed full of flavor. The saltiness of the pork belly paired well with the spiciness of the kimchi. I would highly recommend this dish with a cold glass of you favorite beer.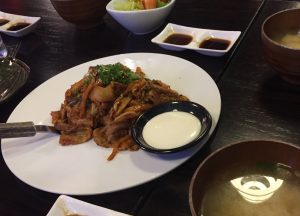 The second appetizer that we got was the bacon wrapped mochi. This was one of the most unique dishes, and the crispiness of the bacon was a nice contrast to the softness of the mochi. I would highly recommend it, and would go back just to get this dish.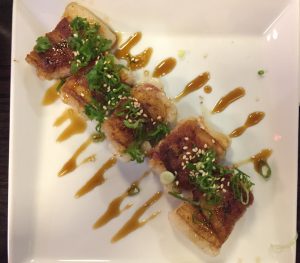 The final appetizer that we got was their signature unwrapped gyoza. This dish was extremely unique and delicious. It's hard to describe, but it felt like I was eating gyoza filling in the form of a hash brown. It paired very nicely with the ponzu dipping sauce.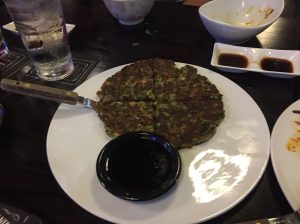 I decided to try the garlic chicken for my main entrée. The presentation of the food was really nice. It came with a variety of grilled vegetables, which were all delicious. I also managed to snag a couple pork chops and a little miso butterfish from the other people I went out to eat with. The pork chops were really tender and juicy, and the miso butterfish was amazing. They serve generous portions here compared to some of the other Japanese restaurants on the islands. After speaking with our waitress, she mentioned that the chef that had made our food had trained in Osaka, and had brought his training here to Hawaii. The staff here was really friendly, and they really seemed knowledgable and passionate about the food they made, created, and served.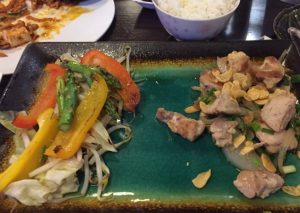 After we finished our food we decided to get some dessert. I decided to try the Okinawan Surprise. This was another one of the unique dishes that Takumi had to offer. This dish consisted of a scoop of ice cream (I chose vanilla) with chopped up, seared Okinawan sweet potatoes and strawberries drizzled with a sweet shoyu sauce. This dessert was really different and unique and I really enjoyed it.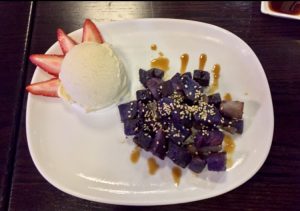 Overall, Takumi is great Japanese cuisine over out in Kapolei. It's nice knowing that there's quality Japanese food on the west side, and that I don't have to travel all the way to town. It's a really unique Japanese restaurant with a little taste of Osaka. It really redefined the idea of a teppanyaki restaurant to me, and I would highly recommend this restaurant to anyone wanting to eat quality Japanese food with an interesting flair.