Top 10: Apps to help you survive college
College is an exciting and wonderful place. For many, this is the first time you are out on your own without the help of a parent. College students are always looking for the most convenient ways to take care of business so we have formed a list of the best apps that are sure to help you adjust to your new surroundings while saving money and staying on task.
1. Venmo
Venmo is the perfect app for making and sharing payments with your friends. Did your roommate forget her wallet when you went out last night? Split that $16 check and pay back that $8 directly into your buddy's account with the click of a button.
2. EasyBib
This app takes the edge off writing that paper you've been avoiding. EasyBib is a citation generator for MLA, APA, Chicago, Harvard, and more than 7,000 citation styles. The app even allows you to scan the barcode of a textbook for an instant citation.
3. WolframAlpha
This app is the best $2.99 you will ever spend. This is the all-around "know it all" app that computes answers to just about any question you may have, ranging from trigonometry to wind chill. WolframAlpha knows everything.
4. Gasbuddy
Are you tired of filling up your tank only to find out that the gas station two blocks away was 9 cents cheaper? Gas buddy solves this problem by finding the cheapest gas near you. There is also a chance to win $100 of free gas every day. Thank me later.
5. Shopular
Many of us enjoy shopping at Target, Walmart, Forever 21, and so on, but are on a strict, college-student budget. Well, Shopular is here to save the day. This app allows you to pick your favorite stores, find the best coupons, and even alerts you on great deals are around you. Now you can find those new bed sheets or first day of school outfit for the best deal.
6. Uber
Forget about taking a taxi. Uber is cheap, fast, and simple. The app allows you to set your location for an easy pickup and pay for your fare with your phone. An Uber from campus to Waikiki costs around $10 whereas a cab will cost about $15.
7. Dropbox
Dropbox will help securely store those 20-page term papers, photos from the weekend, PowerPoint presentations, and so much more. You can also gain access to all of your files even when you are offline. No need for that USB drive anymore.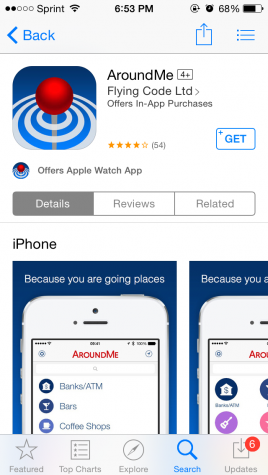 8. AroundMe
Did you decide to leave home for college to have new experiences? Are you now completely lost? Download AroundMe and quickly find the nearest bank, bar, gas station, hospital, movie theatre, or grocery store. This app will help you find numerous shops up and down Waialae Avenue. You'll know more about how to get around town than the seniors.
9. Hopper
This is another great app for students who left home for college. Hopper will save money on flights by suggesting the best times to book, monitoring pricing, and sending alerts when prices for your trip have gone down.
10. MyFitnessPal
Avoid the "freshman 15" by using this app to track meals, workouts, and even steps. MyFitnessPal makes it easy to find out just how many calories were in that slice of cafeteria pizza that you had for lunch.