Pulitzer Prize-winning play to be performed at Chaminade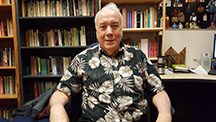 Chaminade University's Division of Humanities & Fine Arts will premiere its annual fall performance on Friday, Nov. 4, in the Loo Theater at 7:30 p.m.  This semester's performance will be Margaret Edson's Pulitzer Prize winner, "Wit."
"Wit" is about English professor Vivian Bearing, who is a meticulous, dedicated, and passionate scholar of seventeenth century poetry. At the age of 50, she is forced to confront the reality of dying from advanced ovarian cancer and to acknowledge her own mortality. During the course of her illness and going through an aggressive and experimental form of chemotherapy, she reflects on her life.
Directing the play is Fr. Robert Bouffier, who have been involved in theater both as an actor and as a director for as long as he remembers.
"I have always loved 'Wit' since I first encountered it because it puts a person at the ultimate question," Bouffier said. "The ultimate question is the meaning of life in the face of death. Is there a meaning? And this play answers yes, definitely there is a meaning to life and love and death and all of that."

As soon as the fall semester started, Bouffier started the process with auditions to cast roles. The play has nine actors, which includes two faculty members, one staff member, four Chaminade students, and two UH students. Since early September, they have been working on the play two hours a night, Monday through Friday.
Playing the lead role, Dr. Vivian Bearing, is Chaminade student Ashleigh Taylor who has previously acted in five plays at Chaminade and been involved in theater for as long as she remembers. Taylor describes the play as heavy but real.
"Even though I am a science major, I've always loved English," wrote Taylor in an e-mail. "I think words are beautiful, and I connect with my character on that. The language of the piece and the subject matter are quite daunting but with a great cast, it can be a really moving show."
Preparing for the performance has been challenging for Taylor, as she has a lot of monologues throughout the show. Being able to identify with and get into the role of someone who is dying has also been a challenge.

"It's been hard to get into the mind of a cancer patient mostly because that's a kind of pain I don't know how to sympathize with, because put simply, I've never felt it," wrote Taylor.
Because that Vivian Bearing has cancer and goes through the process of chemotherapy, it was a requirement that the actor playing the lead had to shave her hair off for it to look realistic.
"I guess I had to look at it as another part of the costume," wrote Taylor. "I love my hair, and I know it will be hard and strange living without it, but it felt like a silly reason to turn down such an amazing role. I don't think I'll ever have another opportunity like this, and I didn't want to stand in my own way. I also realized that I HAD a choice. Women who go through this treatment don't get to decide if their hair falls out or not. Hair is stigmatized, especially for women, as the centerfold of beauty. I thought going through this experience would make me face my own insecurities and force me to believe that I can be beautiful with or without my hair."
Another Chaminade student acting in the play is Shyanne Rippole, who plays Susie Monahan, the primary nurse who takes care of Vivian. "Wit" will be the first play Rippole have ever played in.
"It is a very serious play but there are bits of humor in it, because I think that if we were just covering a topic of dying and death without having any type of humor it would be very hard for a crowd to sit through it," said Rippole. "It is a really honest, like this-is-what-it-is play. It doesn't cover or mask anything about death or dying or anything like that. It's more so the process of Vivian coming to terms with it and things she wish she did differently."
During this year's performance, they decided to do the play in the round, which has never been done before at Chaminade. This means that the stage will be round with the audience encircling it.
"That's very difficult because it requires a whole different attitude on the part of actors and the director," said Bouffier about the challenges of doing theater in the round. "When you are right next to the stage, and it is happening right in front of you, there is an intimacy that you couldn't achieve otherwise. And the intimacy works well for this play because you want to feel what she (Vivian) is going through and you want to sense how that affects you."
The play will be performed eight times, starting Friday, Nov. 4 and ending with the last performance on Sunday, Nov. 13. Tickets are $5 for Chaminade students, faculty, and staff, and $10 for general admission.
"I think people should come see it because it is transformative, really," Bouffier said. "When you leave, your feelings will have transcended kind of to another place. To an experience of contentment really. An experience of finding another way or one way among many of achieving your own bliss, your own happy resolution. It will be a major experience. Also it will be great to come see fellow students give their all to a piece of art."
"Wit" will start at 7 :30 p.m. on Nov. 4, 5, 7, 8, 11 and 12. The play will also have matinees on Nov. 6 and 13 at 4 p.m. For tickets, go to showtix4u.com.
And more…
Here are a few more thoughts about "Wit."
"This is probably the hardest play to get people to come and see. You can't really explain the play without saying the play is about a woman who is dying, and nobody wants to come and see that," said Bouffier about the challenges of getting people to come and watch this play. "The thing that's hard to get across is that the experience of her dying is manifastative. There is a great deal of humor in the play, it is a great deal of ironic humor. The irony of being in this situation. Everybody I talk to find it's hard to believe that you can find humor in dying of fourth stage ovarian metastatic cancer, but there is humor in it." 
"Vivian Bearing is 50 years old, which is usually well before you would confront that issue (dying). Let's say 70-80 is when you come closer to death. At 50 you should still be confronting the growth and the burdening of your position and career and that kind of stuff. You are still building to a degree, and she is early on forced to acknowledge her own mortality and by acknowledging your mortality you also then have to access your life somehow, or put the whole experience of living into a perspective. And that's what's most challenging in this play. It's not just watching Vivian do it, it is also reflecting on your own self, and how are you living in a way that makes you integral, that makes you whole and fulfilled. What is your destiny? What is your bliss? It does ask that of every person as we see her encounter this," said Bouffier about the play. 
"It's really powerful without having to be over the top,"said Rippole on what to expect from the play. "It's honest and I think people can relate to it in different forms cause we all kind of lost people through different ways, so it's a really nice thing to be in a room full of people who also would understand cause it just relates to everybody." 
"I think people should come see it because it's a beautifully written play,"wrote Taylor about why people should come and see the performance. "It's also thought provoking and keeps the audience engaged in a way that it doesn't just feel like a 'cancer play.' Though the character has cancer, I feel like that isn't what the story is about. To me, it's about facing mortality and realizing what's important in this life. This show is definitely different from the usual comedies that Chaminade puts on, but a good different. Oh and bring tissues, just in case."