Doris Duke's Shangri La
The first impression of Shangri La was not impressive, but a white-walled shoebox from the outside intrigues everyone on the tour waiting to see what's inside. A dimly lit room lined with marble-cut stained glass panels border the top of the entry room along with carefully placed priceless islamic painted tiles on the walls. This masterpiece of a entry room is just one of the many exquisite rooms in this historic mansion.
Shangri La of Hawaii is a manmade oasis basking on the shore of south Oahu. Built on a 4.9-acre property near Diamond Head, American heiress Doris Duke and first husband James Cromwell first fell in love with Hawaii as their final destination on their honeymoon and enjoyed it so much they extended their stay by 4 months. The head of architecture was Marion Sims Wyeth along with supervising architect H. Drewry Baker. Duke and Cromwell were intricately involved in every detail of the property.
In 1943 Duke and Cromwell separated and Duke thrived with traveling around the world collecting art for her 2,500+ collection of tapestries, pottery, vases, furniture, and painted tile art. It was a process of more than 60 years of Duke collecting primarily Middle Eastern and Islamic art from Turkey, Syria, Egypt, Morocco, and India. Duke travelled around buying and commissioning art from famous Middle Eastern local artists.
In Shangri La, which can be seen via a tour, there are vases and pots dating back from the 2nd century in China as well as a carved marble fireplace imported from Spain. The home is dripping with elements from around the world all having the theme of Islamic art. There is an over-the-top chandelier in the dining room that was made in France, but made to look Islamic.
Duke was always changing rooms and rearranging art tiles on the walls to keep the home ever changing to fit her newest art piece. A sitting room that has a flowing water fountain in the middle, as well as the living room having an entire wall of windows disappear into the floor by the push of button to create a flowing living space.
Each room in the house is different, one room had the entire wall panels shipped over with so much grime on them that Duke would take a qtip and slowly removed the grime and dirt but still preserved the art underneath. There is a courtyard in the middle of the house to create a calming and cooling meditation space that is surrounded by hand-painted tiles from around the regions of the Middle East.
No expenses were spared when making this seasonal home. Every square foot was thought out and planned to create the overall masterpiece and one-of-a-kind living space. Duke used it frequently to host parties and have many guests over all the while still leading a secretive heiress life.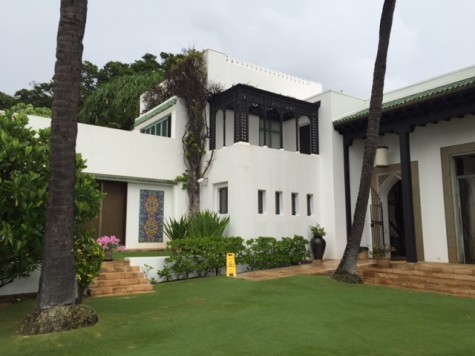 The Shangri La tours are offered Wednesday through Saturday starting at 9 a.m., 10:30 a.m. and 1:30 p.m. and tickets must be reserved in advance or by visiting the Honolulu Art Museum. There is also a virtual tour available online . When visiting the museum you must meet at the museum courtyard where you gather to board a bus and get transported to the private grounds of Shangri La.