Local designers bring fashion and fun at Fishcake
On Saturday, Oct. 12, 2013, Fishcake, a simple furniture store in Kakaʻako, transformed into a luxurious fashion hub.
Dozens flocked to the furniture venue for the first ever alumHI, a fashion event that celebrates the work of 14 aspiring local designers, who are also former fashion students from the University of Hawaii at Manoa and Honolulu Community College.
The three-hour event included live entertainment from drag queen Cocoa Chandelier and dance group Giinko Marischino, a photo exhibit from three Honolulu-based photographers and a film screening by local director Mark Arbeit.
Jennifer Fukino, a 2010 UH graduate, was thrilled to have her work come to life on the runway.
"I wanted to create clothes that people could wear," said Fukino, who designs clothing based on modern Japanese architecture. Her clothesline includes dresses that have a blend of violet and black – perfect for a night out on the town. "I express myself through clothing, and I usually go for something that's simple and complex – an oxymoron, if you will."
Other designers at alumHI, such as 2011 University of Hawaii graduate Jaclyn Mae Santos, have decided to turn their clothing lines into a business venture. Most of them have online shops and are featured in local shops and events, such as San Lorenzo Bikinis and Art + Flea.
Santos, who is the owner of the edgy clothing line Moonspell Hawaii, said she was inspired by her travels and costumes in movies.
"My line is based on the idea of 'tortured romance,'" said Santos, who incorporates the image of the Blessed Virgin Mary into her outfits. "It's more street style … very edgy."
Accessory lines were also featured at the lavish event. Among these jewelry collections were Kaylin Laeha's Panacea Designs, a metallic jewelry assortment; Lehua Sparrow's Twiss, a reasonably priced hair accessory line; and Emiko Miyazawa's M33Ms ("meems"), which serves as the first to have multipurpose jewelry pieces.
"I want people to wear jewelry that have several uses," said Miyazawa, who uses metallic shaped pieces that are moveable and wearable for anyone. "My jewelry line incorporates art, design and movement. It's a way for me to show my creative side."
Laeha, Sparrow and Miyazawa were not from UH nor HCC, but they used alumHI as an opportunity to showcase their work and demonstrate their creativity.
"I wanted to do something for the hair," Sparrow said, referring to her brightly colored handmade hair accessories. "Some hair accessories out there, they're just too expensive! So I decided to blend these fun fabrics and make them into these hair pieces, like headbands."
Although these designers want to bring fashion into Honolulu's market industry, Fukino said that it is too simplistic and that cutting-edge fashion trends are too luxurious for Hawaii.
But it doesn't stop this group of fashionistas from making a name for themselves.
"We have a laidback lifestyle here in Honolulu," Fukino said. "The market industry is way too simple. People want aloha shirts and shorts. I'm hoping to change that by taking my simple designs up to a higher level."
About the Contributor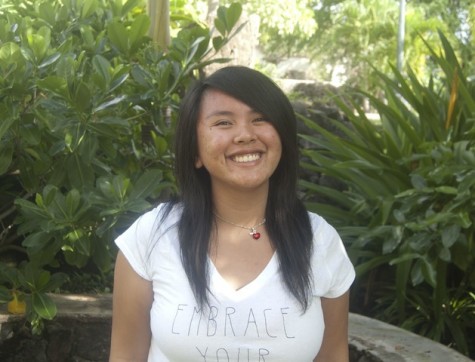 Vina Cristobal, Staff Writer
Vina Cristobal is a junior who is majoring in Communications (Mass Media). This is her second semester as a staff writer for the Silversword.  In her...