Spilling the Beans: the Best Coffee Shops on Oahu
I will never look at coffee the same after moving to Hawaii. Being from Kentucky and having lived for three years in California, I tried plenty coffee spots but never got attached to any. I'll confess, Starbucks used to be a nice pit stop to make for my daily caffeine. After living in Hawaii for a month, Starbucks is out of the question. I have formed a coffee addiction because the quality and taste of coffee in Hawaii is far better than any on the mainland. 
Ever since the beginning of my college journey, opening a coffee shop or truck has been a dream of mine. Coffee is a small way to bring people together and have a place for people to unwind. Visiting the local coffee shops in Oahu has further inspired my passion to start my own. Here are some coffee spots that give me all the good vibes.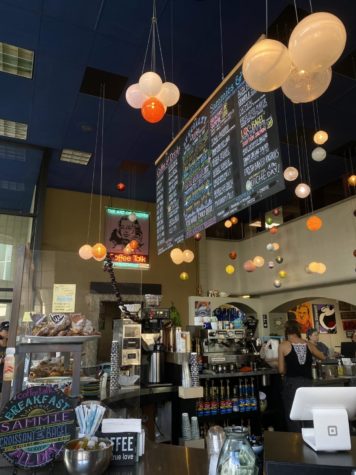 Coffee Talk (Waialae Avenue)
Coffee Talk is my daily stop on weekdays. Being a commuter student, there are plenty of breaks in between classes that shouldn't go to waste. I am more motivated and energized doing work off campus, especially with a coffee in my hand. The atmosphere of Coffee Talk is unmatched. Vibrant neon signs and hanging lights dominant the interior of this large cafe. Also, a gallery of interesting artwork and music sets the mood.
The menu is big, and I am on a mission to try every coffee flavor on the menu. The "specialty coffee" menu includes exciting flavors like red velvet, caramel snickerdoodle, cake batter, Nutella, cinnamon roll, and so much more. Iced caramel snickerdoodle latte is my top recommendation so far. The espresso machine and cold brew on tap are in the center of the shop so you can watch the employees make drinks all day long, a personal hobby of mine.
Next to the register there is a window of freshly baked goods. Banana bread, coffee cake, and bread pudding are some of my personal favorites. When I am in a pinch for lunch, Coffee Talk offers a selection of sandwiches, acai bowls, oatmeal, salmon bagel, and other made fresh meals.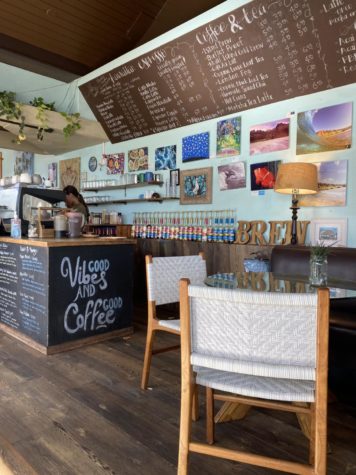 Island Brew Coffeehouse (Hawaii Kai)
Island Brew is a dream coffee house. This was one of the first coffee shops I tried when moving to Oahu. My friends raved about this "must-try" raspberry mocha, so now it is my turn to rave: that the hype is real.
The interior of Island Brew has a beautiful turquoise color and is decorated with shells and ocean photos. The icing on the cake is the fact that the coffee shop is literally on the ocean. You can take your food and drink to the outdoor patio to look out at the waves and passing boats. I like to come here after a stressful day, despite the drive out to Hawaii Kai. The ocean breeze and coffee instantly brightens my day. A motto, handwritten and prominently placed near the register, is "Good vibes and good coffee," which is the perfect description of this little coffee shop.
The coffee beans are locally grown and roasted, making the perfect Hawaiian espresso. To mix up your drink menu try out the following: raspberry mocha, white chocolate mocha, Biscotti latte, or a Hawaiian honey latte. 
Rise & Grind (Kailua Farmers Market)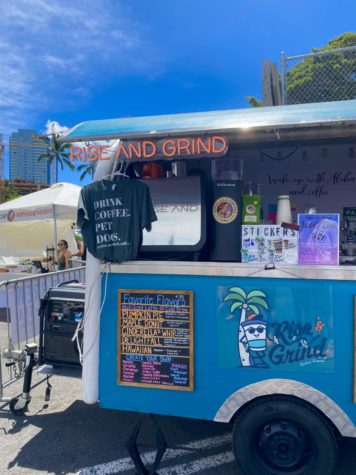 Discovering Rise & Grind after attending a farmers market looking for fresh veggies and fruits was a happy accident. While I did buy my produce, I drank one of the best fall flavored coffees. Basic, I know, but I am a sucker for a pumpkin spiced latte when it comes in season. The blue coffee truck, was a real eye catcher that drew in customers. The board boasting "pumpkin pie latte" served as a siren song to my taste buds, and I instantly ordered one. My pumpkin pie latte was handed to me in a round cup with a custom sticker with its adorable coffee man logo.
The Rise & Grind Instagram (@rise.and.grind.coffee) gives a behind the scenes look at the truck and coffee process and the date and location of where it will be next.
Plantoem (Waialae Avenue)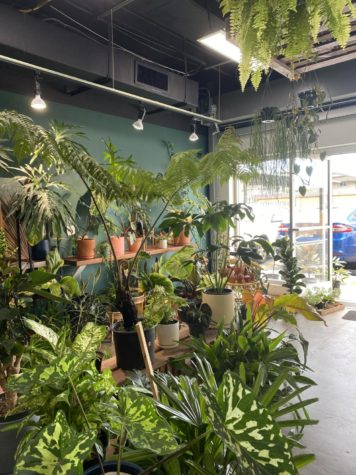 Green thumb lovers, this cafe is perfect for you. Plantoem is part plant shop, part cafe. Walking into Plantoem felt like walking into a real life jungle. Plants are hanging from the ceiling and run along all of walls. Every plant is available to pot and take home.
Making your way to the back of the cafe, Plantoem offers a choice of coffees, teas, pastries, and more. The iced hibiscus tea, coming in a beautiful maroon color, was the freshest tasting tea I have ever had. This is a great substitute for caffeine for those that dislike coffee. The seating in the cafe is limited. But if you can snag a seat I suggest sitting here for inspiration or a place to sit and work. The combination of coffee and plants makes this place unique compared to other coffee shops I have tried. I walked away from Plantoem with a fresh mindset, a nice caffeine surge, and a new plant friend. To learn more about its available plants and events, check out @Plantoem on Instagram.