6 Dessert Places to Try on the Island of Oahu
Treats in Hawaii are onolicious and different than anywhere else. Growing up in Hawaii, I have tried almost all of the desserts on the island. I have tried some that I absolutely love and some that I have hated. Today I am going to share with you six of my favorite dessert places on Oahu.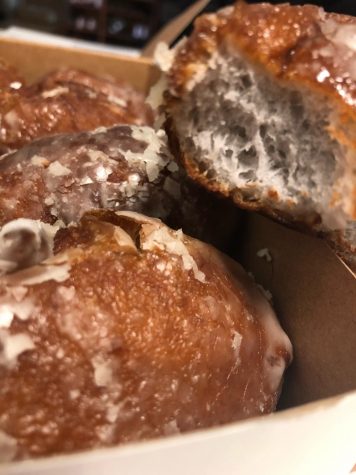 Purve Donut Shop (1234 Kona St, Honolulu)
Purve Donut Shop was founded by Nicholas Cornford and Brion Zablan in 2018. This is not your average donut shop, these donuts have hilarious names and one of a kind designs. Some of the most popular ones being "Unicorn Butt Sneeze," a lemon glazed donut with Fruity Pebbles sprinkled all over, and "You're Killing Me Smalls," a chocolate-glazed donut with graham crackers, toasted marshmallow fluff, and a little teddy graham chilling on the top. My favorites would have to be "It's Ok…Cuz It's Your Dog," a peanut butter glazed donut with a raspberry drizzle, or "Na-Na-Nut Buster," a haupia-glazed donut with macadamia nuts and a chocolate banana drizzle.
UBAE (1284 Kalani St, Honolulu)
Established in 2017, UBAE stands for Ube Before Anything Else and is home to an assortment of ube-flavored desserts. Ube is a purple yam that is from the Philippines, not to be confused with taro or sweet potatoes, and is incorporated into different desserts. Growing up in a Filipino household, ube was a staple for the desserts, almost everyone has ube incorporated somehow. Specifically at this store that ranges from crinkle cookies to cheesecakes to sponge cakes. The most popular item are the ube tarts, pie crust cups that are filled with a creamy ube cheesecake. Eating these desserts brings me back to good memories with my family.
Kamehameha Bakery (1284 Kalani St Unit D106, Honolulu)
Kamehameha Bakery is home to the glazed poi donut and many other amazing desserts. The famous poi donuts are my favorite items to get here because they made fresh in house and not too sweet compared to other items that they have. What is most interesting about this bakery is that because it opens at 2 a.m they are often sold out of majority of the popular items around 12 p.m. every day. Some of the other items that they offer here are ensemadas, pandesals, and bread pudding.
Liliha Bakery (515 N Kuakini St, Honolulu)
Liliha Bakery is one of my favorite places to not only eat at but also get desserts from. It is home to the coco puff, which is a puff pastry that is filled with chocolate and topped with chantilly frosting. This is my favorite dessert to get after eating a meal at Liliha Bakery because it isn't too filling and is just enough to fill my sweet tooth. They also offer other fillings for the coco puffs such as green tea and regular cream. Some of the other desserts that are offered are cakes, poi mochi donuts, and pies.
Waiahole Poi Factory (48-140 Kamehameha Hwy, Kaneohe)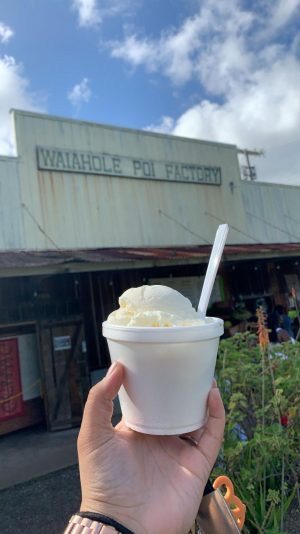 Waiahole Poi Factory is known for its plate lunches and the Sweet Lady of Waiahole, which is warm kulolo and haupia ice cream. My favorite thing about it is how smooth the kulolo is and how they complement each other. Both of them are made in house with local ingredients.  This is more for the adventurous type that is willing to try new things and get out of their comfort zone.
Leonard's Bakery (933 Kapahulu Ave, Honolulu)
Leonard's Bakery has been around since 1952 and has become an iconic place to go while visiting Hawaii. Leonard's is home to the malasada, which is a Portuguese fried donut that is covered in sugar and sometimes cinnamon. What makes these malasadas unique is the different coatings and fillings that are offered. My favorite combination for the malasadas is a custard-filled one with a cinnamon coating because it complements each other so well with the fluffiness of the donut. The three coatings are plain sugar, cinnamon, and li hing. For the fillings, they have signature ones, which are custard, dobash, haupia, macadamia nut, and guava. But every month there is a featured flavor and for November it is pumpkin.