Covid-19 Brings Haunted Drive-Thru Experience
Every year during the "spooky season" of Halloween, haunted attractions like Waipahu's Haunted Plantation or Dole's Haunted Pineapple maze are a must to set the Halloween mood and get me in the Halloween spirit. However, with this year's real-life spooky season of the pandemic, these haunted attractions were unable to open and so too was my tradition of experiencing a haunted house during the Halloween season.
With absolutely no haunted attractions insight, I was left to believe Halloween was canceled and thought I would have to just try again next year until I found out that Habilitat Hawaii chose to launch the first-ever drive-thru haunted house at the Aloha Stadium in Halawa. My siblings and I had all these big plans to attend it we waited until the last minute to purchase tickets, and eventually, the event was sold out. I was bummed and back to square one, believing Covid canceled another event, Halloween.
Following our regrets of not buying the tickets sooner, my aunty offered us an extra ticket for the event. We decided to take it, knowing this was our last chance to attend this event and fill our Halloween cup.
We filled up my mom's Toyota Sequoia with seven passengers brave enough to forego this spooky drive-thru. The theme of the event was "Dead End: The Asylum," where there were six stations to drive through and get spooked. Once at the station, you were directed to place your car in "park," turn off your engine and lights, and put the emergency brake on. You were also required to keep your windows up to enforce the safety of the actors along with the passengers. Cars were lined up, car after car around the stadium parking lot, and it took us an hour to get to the start of the haunting experience, which prolonged my anticipation and anxiety to a whole new level.
Here are my thoughts on the different haunted drive-thru stations:
1st Station: The Asylum
The Asylum was filled with mental institution patients popping up and coming out of the woodworks. Their appearance and deranged state had us screaming and constantly checking if the doors are locked.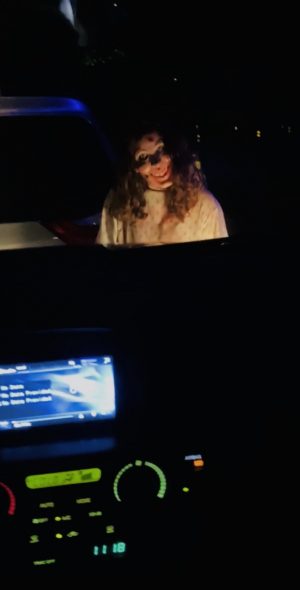 2nd Station: The Morgue
The Morgue had us living through an episode of "The Walking Dead," as previously resurrected Zombies gather and surround our car with spontaneous bursts of energy and audible moaning and groaning.
3rd Station: The Cult
The third station took us to the ceremonial grounds of a twisted cult scene. With different cult members glaring in our direction to stare into our car's windows, this cult scene left an awful taste in our mouths and collectively was our least favorite station.
4th Station: The Circus
The Circus station was everything we imagined a Freak Show to be. Clowns, clowns, and more clowns as they clowned around our cars and popped up to scare us from many different angles. Think of four duplicated Pennywise's from "IT," that's what this scene was like.
5th Station: The Slaughter House
The Slaughter House brought us to a station where bones, torn limbs, and body bags hung down from the top of the station's tent. The sight of bloody limbs and severed body parts had us grossed out in every kind of way.
6th Station: The Asylum
The final station brought us back to the Asylum (where we originally started the drive-thru from). This station had us bothered and confused as a big revelation is made here.
As I reflect on my night at the haunted drive-thru, I remember the night was filled with yells, screams, and panicking. This haunted drive-thru made me feel like I was a character living through a 20-minute horror movie. My younger cousin even spilled her coffee all over our car because she was jumping so much from the fright outside of our vehicles. Because of this and all the times I got frightened, the Habilitat of Hawaii did a spooktacular job at this first-time haunted drive-thru, and the $65 that it charged was worth every penny.
Unfortunately, the haunted drive-thru is sold out but you can check out @oahuhauntedhouse on Instagram this weekend for canceled tickets resulting in last-minute available spots. I hope this first-time event becomes an annual Halloween event following this year because it did a great job of incorporating a haunted house during a national pandemic while giving the audience a safe and thrilling experience. I know I will definitely return back!