Top Five Communication Resources During Covid-19
The technology we have created and continue to develop was once feared upon, but now we are more dependent on it more than we could ever imagine. Covid-19 has forced society to take measures that we would never have seen coming. A huge change the world has had to make is interaction with one another. Communication is what makes us human, and now we are led to communicate through technology as a main source of humanity.
Software that is now peaking during the time of this pandemic, predominantly used by business and educational systems. Are enabling relationships and social gatherings.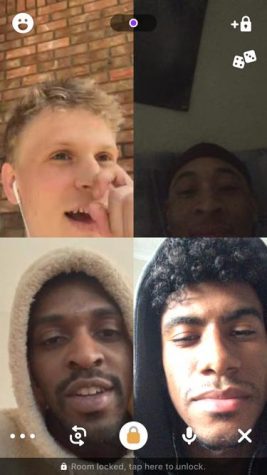 FaceTime
A proprietary videotelephony product developed by Apple Inc that was released in 2010. FaceTime is available on supported iOS mobile devices and Macintosh computers that run Mac OS X 10.6.6 and later. Face time will always be the number one go-to for everyone with Apple products. However recently they have added the use of multi-person FaceTime calling. This allows people to share one call with multiple people up to 32 contacts at one time.
Mobile Operator "3Denmark" states that "the data usage for video calling on FaceTime has doubled in two weeks." Reported by BBC News on April, 16.
"To be honest, I FaceTime my friends probably five to eight times a day," said 22-year-old Ines Medina from Spain. "There is nothing else to do, Spain doesn't let you go outside one bit so all we do is talk, and I've been using FaceTime my whole life, no need to change now."
Zoom Video Communications, Inc.
Zoom is an American communications technology company headquartered in San Jose, California. It provides an online chat service through a cloud-based peer-to-peer software platform and is used for teleconferencing, telecommuting, distance education, and social relations. Zoom is available for download on computers, and also in App Store on your mobile. Zoom has crept out of the woodwork as it has now become one of the largest platforms of communication today. Whereas before it was just known for a business call meeting that was still under the radar.
"I love Zoom, and I hate, Zoom," said Jamal Brownbill, a Masters student at Cardiff Met University in Wales, with a laugh." I love it because we are able to have a smooth video call with anyone, for free with no lagging, but I hate it because my school now uses it as a way to attend classes and I was hoping they would give me an A and leave me alone."
Microsoft Teams 
Microsoft Teams is a unified communication and collaboration platform that combines persistent workplace chat, video meetings, file storage, and application integration. Only released three years ago, Microsoft Teams has had a variety of feedback, from good to bad. However, a lot of people are consistently using it as they see it is the best fit for their business meetings. The software has not been used for social gatherings or daily catchups. It has predominantly been used for small companies to communicate.
"I mean, it is what my boss said we would use, so I guess that it is what it is. But it does jump a lot when in-call which is annoying," said Matthew Johnson,  a plumber from London. "I am not much of a technology guy so it is tough but it gets the job done and helps me avoid my boss's bad breath in the office."
Skype
Skype is a telecommunications application that specializes in providing video chat and voice calls between computers, tablets, mobile devices, the Xbox One console, and smartwatches over the Internet. Skype also provides instant messaging services. Users may transmit text, video, audio, and images. Skype is like the grandfather of communication, it has been around for years and everyone knows of it and used it once upon a time. However recently it has been falling down the hierarchy. Due to faulty settings and non-existing options.
"So I've been using Skype for many many years (seven) and whenever I'd open it it would crash and if it didn't crash, it would crash 100% of the time when I tried calling someone," said 46-year-old Pete Simmons, founder of Creators Corner Programming Centre. "When you flip the camera on PC you can't flip back. You cant use a camera unless you restart call. And no option for changing audio volumes. Not even in the Windows Volume Mixer."
Houseparty 
Houseparty is a social networking service that enables group video chatting through mobile and desktop apps. Users receive a notification when friends are online and available to group video chat. On average, users spend approximately 51 minutes a day on the app in a group or one-on-one chats, according to Houseparty.com and also Wikipedia. All in the last two months. Houseparty was launched in 2016. It is known for the informal conversations, the gatherings, the relationship source. Not businesses or for company calls through clients. The app contains games you can play whilst on call and also a lot of fun features like filters, music, and people joining the call without having to be invited.
"I like Houseparty because now we are not in school I can talk to all my friends and I don't need to have my own number," Said 7-year-old Ashton Mcwilliams from England. " Mummy doesn't get mad at me because I use my ipad to talk to them and I can be on it for as long as I want."