Where are students in the midst of the Brexit?
On June 23, a referendum was held to determine whether the United Kingdom was to remain or leave the European Union. This event is formally known as the Brexit, an abbreviation of British Exit. The Brexit itself has posed some concerning questions for citizens and residents of the U.K. in regards to traveling, business, economics, trading and especially schooling.
University programs throughout Europe encourage semesters studying abroad. For example one of the largest study abroad programs, European Region Action Scheme for the Mobility of University Students, also known as Erasmus Programme, provides study opportunities for more than 4 million European students. Statistics of Erasmus showed that for the academic year of 2013-2014  15,600 students from the UK alone were studying across Europe. And according to NAFSA (Association of International Educators, a non-profit organization that focuses in studying abroad and international education), there were 304,467 U.S. students studying abroad during the academic year of 2013-2014. Now that the Brexit is in process this all could change.
Although the United Kingdom's official leave is not occurring any time soon, this change will more likely impose various obstacles for students leaving or coming into the U.K. These obstacles will include tuition fees, visa requirements, work conditions and travel arrangements.
Even though prospective changes are inevitable, there are differing opinions on when the changes will occur. Yohko Aquino, admissions advisor of Chaminade, who specializes in educational opportunities abroad, comments
"Brexit really didn't affect (students wanting to travel abroad)," said Aquino, who pointed to the uncertainty of the timing of Britain's withdrawal from the EU as a factor.
Though nothing yet has happened, Aquino commented on how the public was initially in disarray upon hearing of the U.K. leaving the EU. She emphasized that the first changes to happen will probably be within the commercial realm, and any changes to the study abroad programs would come later. Aquino explains that changes in study abroad situations occur predominantly during times of danger for certain countries.
"We still don't know when they'll [the U.K.] get out of the EU…[But] not soon, it takes time."
Unlike Yohko, in July of 2016 Maastricht University in the Netherlands released a statement saying, that though its current tuition rate is £1,600, the prices could rise to a whomping £6,300 or 8,360 one the Brexit becomes official.
Though Yohko explained that changes will have little effect, some disagree. Lauren Shaefer, student of Queen Anne's in London,  and Nicole Shaefer, student of University for the Creative Arts in Canterbury Kent, have experienced Brexit differently.
"It's definitely cheaper tuition now since the currency drop, so I would say that's the biggest thing that's affected us directly," says Lauren Shaefer.
"Yeah, we were really stunned when we heard the difference in beginning price to the current tuition rate," Nicole Shaefer said.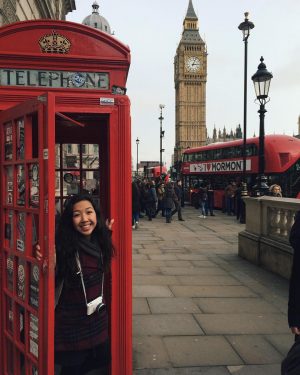 When asking about the exact price of tuition, Monica Shaefer, a business woman, European expatriate and mother to Lauren and Nicole Shaefer, chimed in:
"The currency, you know, everybody thought it had dropped to 1.20, but it seems to have stabilized at 1.30, 1.32. So for all international students coming in, it is going to be a cheaper tuition for them. That's about the best benefit because the pound has dropped by a third,"  said Monica.  "I've lived in Europe for 25 years and that's the lowest I've seen it. What's being affected now is Erasmus which is the exchange program [for university students] in Europe. Or you have a lot of universities in the U.K. who are being funded, by the other european countries for research in the universities, that could be cut off. I think next year if there's any changes, you're going to have less people applying to the U.K. for universities."
Monica Shaefer believes that students have commenced their university applications in the direction of Canada, Australia and America. She continues emphasizing that students themselves aren't affected as much as the financial aspects of the U.K. will be, as London is the headquarter for finance.
Though no immediate transformations are en route, the Shaefers talked further about the already occurring changes that they were witnessing. They remarked how the visa inspection will change and financial aid for european students will change drastically.  Lauren Shaefer predicted that future European college students that apply for loans, will likely be initially rejected as the U.K. is already changing the bursary requirements for next school year.  
"If this does go well, more European countries will follow" says Nicole Shaeffer.
While the Shearers have a lesser optimistic view on the Brexit, Jasmine Cho, a Chaminade graduate of spring 2015 had a differing opinion on the matter.
"I'm neutral, but I lean more towards I think they shouldn't have had the Brexit," said Jasmine Cho.  She recalled her semester abroad in the U.K. as being a simple passport renewal and filling out a couple of papers. Cho believes that the Brexit will impact the EU greatly as the the U.K. was a dominant power within Europe. She remarks how immigration will probably become harder, thus fewer study abroad opportunities will occur between the U.K. and the EU.
Though all these difficulties may arise in the near future Cho had one last encouraging reminder.  
"I highly encourage study abroad," she said. "Just do it. You learn a lot about yourself when you're kind of put out your comfort zone and put into something new."