Beyonce: The Epitome of Excellence
Beyoncé is the most essential female artists in today's society. As an advocate of female empowerment, she embodies a brand that many young women and adolescents seek to mimic.
Among many things, Beyoncé is not only an accomplished artist, but she is also a loving mother and devoted wife to Shawn Carter, who is also known as Jay-Z, one of the biggest names in the rap industry.
Breaking record charts, winning awards, being a global brand, empowering women, having sold out tours around the world, Beyoncé is the very definition of a powerful, well-rounded woman. She is the most influential woman in our generation.
Even in her early career, Beyoncé has always been a standout and has been compared to many of the greatest artists of the 1990s. In an article by the Los Angeles Times dated back to June 24, 2003, she was compared to the well-loved actress and Motown records singer, Diana Ross, while still being a member of the very successful pop group Destiny's Child. Destiny's Child has sold more than 60 million records to date.
The third album Destiny's Child called, "Survivor" was named number one on the Billboard 200 and earned several Grammy nominations.
The article states that "the pop group's name suggests the favor of fate and birthright, and there's never been a doubt about which member is the designated child of destiny. In Destiny's Child, Beyoncé Knowles is supreme in the way Diana Ross once was a Supreme."
She went from being in Destiny's Child in the early 1990s, which Billboard magazine ranks the group as one of the greatest musical trios of all time to becoming a queen of the music industry as a solo act.
Before even hitting the prime of her career, Beyoncé was a promising young talent with a projected future of stardom. Her rise to fame was something that was inevitable, and all it took was a little time to become the prominent star that she is today.
In our generation of women, Beyoncé also serves as a great media role model. She serves as a reminder that women don't need to rely on their sex appeal to be successful. Amber Rose, who is ex-girlfriend of rap superstar Wiz Khalifa and Kanye West, consistently posts graphic pictures of her body on social media. Her tweets have no filter and Rose said, "Yo @khloekardashian I'm really happy for u, and I'm gonna let u finish but I have the best leaked nude…" and then includes the Instagram tag to Rose's provocative picture.
She doesn't promote promiscuity and instead sets a model for not only teens and young adults, but for the young girls who can look up to her and aspire to follow in her footsteps. Unlike many other artists and celebrities who feel the need to get attention by flaunting off their looks in an extremely promiscuous way, she can be someone who is a positive influence on young women, and lead them to believe that they are worth more than sex.
Beyoncé knows how to show off her curves in a desirable way that isn't degrading to women. She makes the younger female generation believe that it's ok to have curves and be confident in your own skin without having to take off clothes to get attention.
PAPERMAG, a french magazine, released an article called, "NO FILTER: AN AFTERNOON WITH KIM KARDASHIAN." The article has multiple nude images of Kim Kardashian that spread throughout social media like wildfire.
Beyoncé is the ideal woman and serves as the face for women empowerment. She is an inspiration to many and shows women that they can stand up for themselves and achieve their dreams. She promotes this idea not only in her daily life, but also within her music.
Her lyrics promote gender equality. In her song "Run The World," she sings that "Some of them men think they freak this like we do, but no they don't…disrespect us no they won't." "Run The World serves as one of her biggest hits to date, not because of her flawless vocals or upbeat dance tune but because of the message that no woman is inferior to any man.
Beyoncé is also very personable and wholesome. She admits her flaws and does not put on an act that she is perfect. She is one of the few honest individuals within the music industry. Back in mid February 2013, she released her self-produced HBO documentary, "Life Is But a Dream."
Beyoncé has always been persistent on keeping her privacy but this documentary was a chance to get a glimpse into her life and who she is behind the glamour and fame.
In her documentary, she states,"First of all, I just wanted to cut through the noise. We live in a celebrity-obsessed culture where there's a lot of information traveling and a lot of talk, but if you really take a look you'll see that for the most part, it's not me doing the talking. Making a documentary was a chance to show who I am and what I really care about."
Beyoncé does just as she says and expresses her vulnerability, first by opting to appear on camera makeup free and then by opening up about her miscarriage prior to the birth of her young daughter, Blue Ivy Carter.
She gives viewers an inside look of what she went through to get where she is today and also who she has become. Beyoncé is undoubtedly one of the most successful women in today's society, and her fame continues to rise.
She went from being in Destiny's Child in the early 1990s, which was one of the top female groups of their time, to becoming a queen of the music industry as a solo act. The third
album Destiny's Child called, "Survivor" was named number one on the Billboard 200 and earned several Grammy nominations.
Embarking on a solo career in 2003, Beyoncé came out with her debut studio album, "Dangerously in Love" that year. The album was a statement that she could make it as an accomplished solo artist.
Three albums later, Beyoncé became one of the most successful women musically, and it showed as she released a surprise fifth studio album entitled Beyoncé in December 2013.
The album not only topped the billboard charts within the first week but also broke an iTunes
record, selling more than 600,000 copies within the first three days. Beyoncé has been looked at as a role model and idol for many years now and deserves the credit.
Not many people in this world can say they have even accomplished a quarter of what she has, and also doing this while still in her mid 30s. With everything going on in her life, she still maintains her professional image.
Beyoncé empowers women to strive to achieve their goals and dreams in one of the most positive ways in today's society. A role model for not only this generation, but for many generations to come.
About the Contributor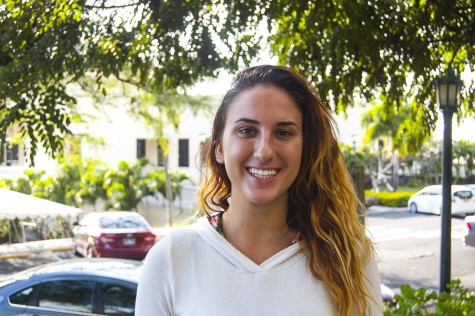 Katie Buskey, Staff Writer
Katie Buskey is a senior at Chaminade University who is working on getting her communications degree. Katie first started her college career playing basketball...