Men's Basketball to Face Daunting DI Roadtrip
[Editor's note: This story has a correction. Please see below for more details.]
The Chaminade men's basketball team kicks off the 2022-2023 season with a daunting road trip to the east coast. The gauntlet that this team is about to face includes Division I powers Ohio State, University of Cincinnati, and Louisville. Playing in the Maui Invitational against Division I opponents every other year is nothing new, but that is in the friendly confines of Lahaina. Flying thousands of miles to the heart of the mainland, a new competition awaits the Swords. 
This time, they'll be on the road, in unfriendly conditions in the competition's arena and home fans, unlike anything else they will face this season. Returners like junior guard Isaac Amaral-Artharee have had experience playing against Division I teams like Oregon, Notre Dame, and Butler. 
"I am looking forward to it and the different environment," said Amaral-Artharee, who was the team's leading scorer last year with 15.4 points per game. "It is going to be a lot of fun." 
Chaminade will start the preseason trip at Ohio State on Tuesday, followed by Louisville on Thursday and ending with a visit to Cincinnati on Monday. Coming off a 9-18 season, the worst since the 1996-97 season, the Swords are looking to improve. This starts with taking on these DI teams to prepare for Division II PacWest Conference play.
"No doubt these games will prepare us for the season," CUH head coach Eric Bovaird said. "These types of teams, they have the ability to expose the weaknesses you have that you might not see on the day-to day-basis in practice. This will be the best competition we play all year. If we can figure out ways to be successful against them then we'll find success at our level for sure."
Last season the Swords finished with a 7-13 record in the PacWest. The season ended in the first round of the conference tournament at the hands of Point Loma, the PacWest champions. This season's tournament will be held March 2-4 at Chaminade, and Bovaird is hoping the addition of 10 new players will help the team improve. 
"We struggled last year for multiple reasons," Bovaird said. "Expectations are much higher this year. I thought we did a great job recruiting the style of players that fit our system better."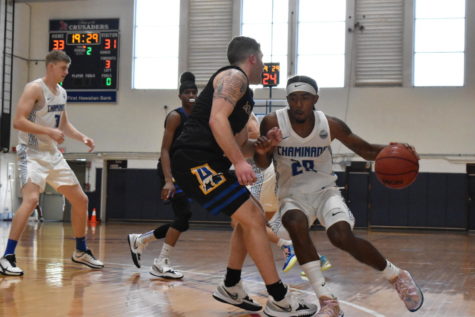 Bovaird adds a wealth of newcomers to the roster: four freshmen (Lloyer Driggs, Nikolas Fotopoulos, Carson Frawley, and Brycen Shackelford), five transfers (Jalen Brattain, Chris Bready, Dorian Harris, Kameron Ng and Scott Ator) and a graduate student (Braden Olsen).
They will join six returners, led by Amaral-Artharee and senior guard Raazhel Watkins (10.4 points per game).
"The six returners have a good feel for what it's like to play against top-level competition," Bovaird said. "Throwing 10 new guys into the mix and trying to assimilate as fast as you can has gone, actually, better than I expected, so I feel like we are in a pretty good place right now."
Ohio State is coming off a 20-12 season record and an appearance in the NCAA Tournament. Louisville had a 13-19 record and made it to the second round of the ACC Tournament. The final opponent of the trip, Cincinnati, went 18-15 and lost second round in the American Tournament, a postseason tournament for teams not in the NCAA Tournament or NIT.
With not a single player on all three rosters under the height of 6-foot, Chaminade will be undersized in all three matchups with only three players on the roster taller than 6-6.
"We're gonna have our work cut out for us for sure, but we're just gonna be solid and play without fouling," said 6-7 sophomore forward Jalen Brattain. "They are obviously going to be a lot bigger than us. So we're just going to have to do the best we can."
[Correction: The story originally reported that the 9-18 record in the 2021-22 season was the worst ever. The record was the worst since an 8-19 campaign in 1996-97. Chaminade's worst season was 4-22 in 1995-96. We apologize for the mistake and regret the error.]