CUH Athletic Training Welcomes New Member
The athletic training department at the Chaminade University of Honolulu welcomed its third full-time member in July, 28-year-old Kean De Luna.
"I think he's really interpersonal with a lot of his athletes," said Jordhan Kieres, a junior on the women's soccer team. "You're able to have an actual relationship with him and he treats all of your injuries and just any minor to major injuries very personally. So like you get hands-on work with him right away."
De Luna, a San Diego native, comes to Chaminade with an extensive background in physical rehabilitation and athletic training experience. After spending a little over five years at San Diego Mesa College studying Kinesiology, he transferred to San Diego State University and continued his studies with an emphasis in physical therapy.
After two and half years with the Aztecs, De Luna graduated with a bachelor's in pre-physical therapy in 2018. And after realizing he lacked the internship hours for physical therapy school, he transferred to Point Loma Nazarene University to pursue his master's and found his way into the athletic training world.
"I was thinking maybe strength and conditioning would be a fun way to go," De Luna said when he initially got to Point Loma. "And then I realized that I wanted to work with student-athletes in the sense that I could still teach and show them, I could still be a mentor for them."
At the end of Chaminade's 2021 fall semester, athletic trainer Tyler Johnston left the Silverswords to pursue a job in Ohio. So during the following spring semester, there were only two trainers left to take care of the 10 teams. Caroline Schafer, the head athletic trainer, and Azumi Koyama. Schafer said that having De Luna is a great way to "lighten the load" for them and have an extra set of hands to help out. De Luna has taken over softball, women's basketball, and cross country, but since his arrival in July, he has been helping out with whatever teams need him.
"He's been great and he does a wonderful job," Schafer said. "He comes in and works with all of you guys [student-athletes], and I know that most of you guys like him and enjoy him. He brings a fresh new perspective to our staff."
During De Luna's pursuit to become an athletic trainer, he had multiple internship opportunities including working within the United Soccer League, a professional league for teams in Canada and the United States. The USL happens to be the league right under Major League Soccer, the highest level of soccer competition.
While he was at Point Loma, he worked with San Diego Loyal and after his time at SDSU he had the chance to work with New Mexico United. He believes that the experience he had working with these high-level soccer teams along with the pressure he faced prepared him for his position now because the athletes he worked with depended on him. Their sport was their livelihood and it depended on how well and how fast De Luna could treat them.
When asked what he likes most about Chaminade, De Luna gave much credit to the athletes he gets to work with every day.
"At SDSU we worked with football where everyone has to go pro and their mentality is different because not all of them are thinking of their future career outside of athletics," De Luna said. "Whereas you come to Chaminade where you have a lot of grounded and well-versed people that understand that their future job is going to be what it is, and they still have fun doing athletics and they work hard. I think it's a good balance between a junior college and an NCAA DI [Division I]."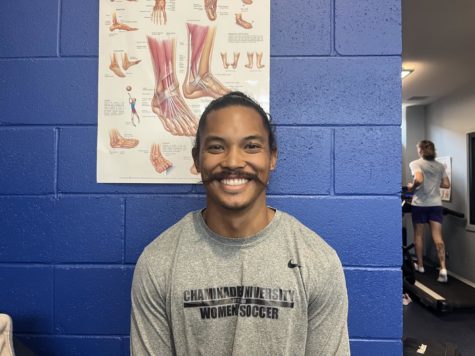 Schafer also explained that having De Luna as an addition to their training staff has been a good way to diversify the perspective among the staff because he has a younger education and might do things differently than herself.
"It's interesting to see his perspective, how he talks to you guys, and how he treats you guys," Schafer said. "Again, the different rehabs that go through his brain [are interesting] because he's been doing it differently than me. So we can all work together and see the new research that maybe he knows and the old stuff that maybe I was used to and collaborate."
De Luna also has experience as a student-athlete as he played collegiate volleyball for a year at San Diego Mesa as a setter. That is one of the reasons why he feels so much for his athletes and advocates for mental health among them.
He said that on top of athletes having just practice, they also work to balance family relationships, school, weights, personal relationships, and games. So as an athletic trainer, De Luna said that one of the toughest parts of his job is watching his athletes mentally struggle. While he works to keep his athletes healthy physically, he strives to create relationships with his student-athletes that foster a safe space for them to talk about their troubles.
He said that his favorite part of his job is being able to make a positive impact on student-athletes.
For the moment, De Luna can see himself working at Chaminade for about two years but once his sports get started, he'll get a better gauge as to what his plans will be. But he has found since working at Chaminade that the Division II level is what fits best with his lifestyle.