CUH Students Take Off Their Masks, Return to Some 'Normalcy'
For the first time in almost 30 months, since March 2020, unmasked faces are being seen all over the Chaminade University campus this fall.
The university announced at the end of the Spring 2022 semester that masks would not be mandated in the classrooms and around campus for Fall 2022. For some, it's a refreshing new reality while others have chosen to continue to wear a mask.
"There had to be a point where everyone returned to 'normalcy,' and I feel like now is that time," said junior Alexander Hernandez, a Psychology major who is not wearing a mask. "I'm not opposed to anyone wearing a mask, but I just don't wear it anymore."
With new Covid-19 protocols on campus many students feel more than comfortable removing the masks to greet their friends and take on their daily lives. 
"I think it's great! I think I'm more likely to actually learn something, and I get to see how passionate professors are when they teach," said Carol Nacario, a junior Business major from Guam. "The feeling is mutual amongst teachers as they can now put a face to a name when addressing their classrooms."
Even with all of the excitement, there are still some worries about crowds in the world of Covid. In some cases masks are worn on campus particularly with larger numbers. Nacario said she will wear a mask in groups larger than 10 in a small room but feels comfortable enough in smaller groups to go unmasked.
When she does wear a mask on campus, Nacario said that she has not received a negative reaction toward her decision to wear a mask.
"I don't really care what people have to say with me wearing a mask," she said. "I'm just concerned for my safety." 
While students in the classroom had to wear masks for two years, the Chaminade athletes were asked to wear a mask in practices, training sessions and even in games. The women's volleyball team was required to wear masks during all practices and games during 2020. The Lady Silverswords' season was pushed back to spring rather than fall while playing just 16 matches, drastically reduced from 30 the previous season.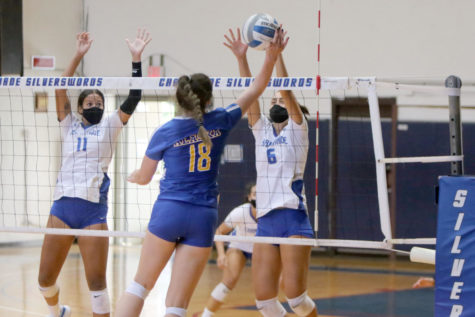 The soccer teams were required to wear masks as well and practice in groups of five only. This created adversity while preparing for their season since they could not practice together as a whole team. Only four games were recorded in 2020, 15 less than the previous season. Many cross-country runners opted out of the 2020 season completely because competitively running with a mask was extremely strenuous. Both the men and women basketball teams were reduced to 12 games each and only competed against colleges in Hawai'i.
"I'm proud of my teammates and I for staying and continuing to work hard with such obstacles," said Emma Morris, a junior guard on the women's basketball team.
The Chaminade sports teams have a green light to travel and compete in all games this season, far different than the previous two years. Masks are no longer required to wear during trainings and practice, giving the athletes a true breath of fresh air. 
"This year I'm most excited about having a fresh start, traveling, and playing with my friends and teammates," Morris said.