CUH Athletics Welcomes Newest Athletic Trainer
Chaminade University of Honolulu's athletic training staff grew to three members with the full-time addition of 28-year-old Azumi Koyama, who started on a full-time basis in August. 
"I feel like when it comes to being a student-athlete, when you're injured, it's like devastating right?" said Clara Slate-Liu, a freshman midfielder on the women's soccer team. "Whenever I work with Azumi, I have full confidence in her that she knows exactly what she's doing, and that she's going to heal us. I also feel like more than just being an athlete she cares about us as people, which means so much."
Koyama, of Kanegawa, Japan, just an hour south of Tokyo, studied Sports Medicine and Sports Science as her undergraduate major with a minor in Athletic Training at Juntendo University in Chiba, Japan. During her undergrad experience, Koyama had the privilege of working with women's and men's swimmers for two years, a sport that she competed in for 15 years and that inspired her to become a trainer.
"I had so many injuries, so I always wanted to be someone who helps provide rehabilitation for student athletes and injury prevention," Koyama said.
Caroline Schafer, the head athletic trainer of Chaminade Athletics, described having Koyama join the staff full-time as "a godsend." Chaminade has 10 athletic teams, and this semester, Koyama has worked with women's soccer and men's and women's cross country. 
"With the 10 sports we were doing just Tyler [Johnston] and I, it was a lot," Schafer said. "It was very stressful. There were some things we couldn't cover. We just didn't have the capacity to with just the two of us. To be able to have her as a part-time in the spring and continue full-time was just such an easy transition. She's fantastic."
After Koyama completing her undergrad at Juntendo University in 2016, she decided to head abroad to study athletic training specifically. She ended up in the midwest of the United States at Indiana State University to pursue her master's degree in athletic training.
"I knew there were some different certifications in Japan, but none of them are specifically trained for athletes," she said. "I just knew that there's an athletic trainer profession in the United States, when I was in my second year of middle school or high school. So I decided to study abroad maybe for college or after college."
When asked about her decision to attend Indiana State, Koyama stated it was due to its well-known reputation as an athletic training program. 
She mentioned being far away from home was "really tough" at first, but she optimized her time and viewed being away as an opportunity to focus on her studies since it was "only two years." Additionally, she said she gets bored quickly and finds it fun to move new places and meet new people. 
Once Koyama received her MSAT at Indiana State University, she continued her education. She recently earned a Master of Science in Kinesiology and Rehabilitation Science from UH Manoa earlier this year in 2021.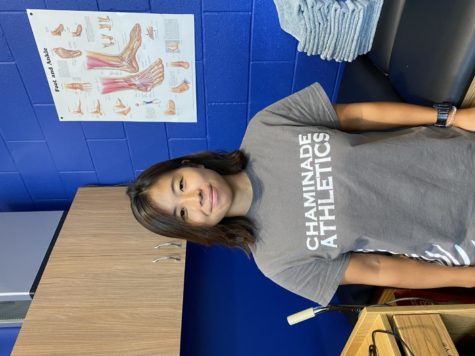 Koyama has numerous other impressive feats and accolades under her belt. She worked as a teaching assistant for two years teaching emergency care and first aid to undergraduate students. While working to receive her master's at UH Manoa, Koyama worked for the Hawaiʻi Concussion Awareness and Management Program as a research assistant and also completed research on knee biomechanics for UH Manoa, while simultaneously being a member of NATA, the National Athletic Trainers' Association, and working part-time at Chaminade as an athletic trainer for the women's basketball and men's soccer programs. 
"I don't know how I balanced all that," Koyama said, "but it's good to have balance outside of the work. I have one or two days of complete [work] off in the week, so that I can work full during the weekdays. Also, I like doing everything. I liked teaching, I liked working here as a part-time and the research."
A typical day for Koyama begins early in the morning. The athletic training office opens at 5 a.m. to tend to athletes before their practices start an hour later at 6 a.m. She assists athletes with taping, rehabilitation, and other various treatments. 
She's also trained in emergency care, so if there's a heat illness, a spinal injury, a concussion, or any immediate injury during play she's able to provide help. Other responsibilities in Koyama's job include helping athletes in their post-surgical rehabilitation, strengthening exercises, and general paperwork such as insurance coordination. 
Schafer explained that Koyama brings a newfound richly diverse athletic training knowledge to Chaminade's staff. Due to receiving her education in different universities, Schafer said that Koyama is able to bring in both Eastern and Western medicine philosophies into athletic training. Beyond this cross-cultural understanding of athletic training, Koyama's freshly graduated status aids in knowing more modern practices for treatments and methods in supporting athletes that the other two athletic trainers may be unfamiliar with since they're well into their careers.
"She's been [to] so many places and she's seen so many things that [she uses] that diversity in how she brings that to athletes' treatment," Schafer said.
Since Koyama is from Japan, she has a unique ability to connect with some of the student-athletes who also happen to be Japanese or international students from Japan. Schafer said she does a great job in making them feel at home or less homesick, and also helps sometimes with translating injuries. 
"She's a great AT [athletic trainer]," Schafer said. "She really knows her stuff and what she's doing. It's eased so much of a burden for us. The athletes love her; women's soccer has just fallen in love with her." 
Two women's soccer athletes, Morgan Smith and Clara Slate-Liu, strongly agreed. 
Smith, a third-year Biology major from Vancouver, Washington, described Koyama as "super honest, super organized, just a queen." 
"Azumi's just so helpful," Smith said. "She's very knowledgeable, so when she helps you, you actually feel like you're getting something fixed, whereas sometimes some people just slap some tape on it."
Koyama said that her favorite part about being an athletic trainer is helping athletes return to play without injuries or pain.
For right now, Koyama mentioned that she feels like she wants to settle in Hawaiʻi. She's comfortable with her coworkers and her student-athletes, and as a new athletic trainer, she's happy to gain experience with different sports, especially soccer since she aspires to one day work with a professional soccer team.