CUH Women's Volleyball Punches Ticket Into Postseason
For the second time in the past three seasons, Chaminade women's volleyball will be going back to the NCAA Division II regionals. The Swords wrapped up the regular season at 27-5 overall, 17-3 in PacWest play. This is the programs first conference title since 1996.
With the victory over the University of Hawaii-Hilo on Nov. 19, the Swords are PacWest conference champions.
Chaminade is the 3-seed in the west for the 2021-2022 NCAA Division II Women's Volleyball Tournament. They will be heading west to San Bernardino, California, where their first game will be against 6-seed Central Washington on Dec. 2. This was an opponent they beat earlier in the season in five sets (25-22, 25-19, 16-25, 26-28, 15-12) during the Western Washington Invitational on Sept. 5.
During the 2021-2022 season, Chaminade has achieved its most wins in program history (27). With a conference title secured, that gives them an automatic berth to play in this year's NCAA postseason. Head coach Kahala Kalabis-Hoke will be heading back to the NCAA Division II West Regionals for the second time in her coaching career, third consecutive year with 20 or more wins for the season.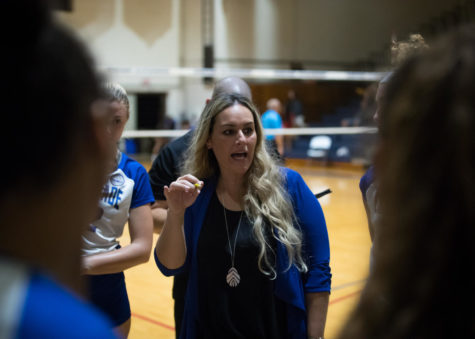 "They have shown all year around that they are one of the best teams in the country," said Kabalis-Hoke, who is PacWest Conference Coach of the Year. "I'm excited, the girls feel like there in cloud nine right now, but I'm just so thankful for this opportunity and what this program has accomplished over the year."
Earlier this year, Chaminade took down 11-ranked MSU Denver (18-25, 25-21, 24-26, 25-23, 17-15) during the Western Washington Invitational, as the Roadrunners are currently the best team in the country in Division II women's volleyball. The Swords also took down defending PacWest champion Azusa Pacific in a double-header matchup on Nov. 8 and Nov. 10. It was the first time the Swords have beaten the Cougars in the last eight meetings against each other.
During this record-breaking year, senior libero and All-PacWest First Team Anna Dalla Vecchia, and redshirt junior PacWest Newcomer of the Year Alexia Byrnes have also shattered single-season records. For Dalla Vecchia, she has broken the all-time digs record in a single-season record with 619, previously owned by her teammate redshirt senior libero Leka Kiner-Falefa (489). The Vicenza native, is also leading the PacWest conference in service aces with 117 this year. As for Byrnes, also named PacWest Newcomer of the Year, broke the single-season record in assists (1,127), which leads the conference. Both have also started every game for the Swords this season and have played in all 117 sets.
"I've never been a part of a team like this in my life, and it's truly been an honor playing with these girls," said Brynes, the Chicago native. "I love this team from the bottom of my heart, and just can't wait to get back to work, and beat whoever we have to beat during regionals."
Junior outside hitter and PacWest Player of the Year Brooklen Pe'a becomes the first volleyball player to win the award under head coach Kabalis-Hoke. The Utah native has the second most kills in the conference (322) and leads the PacWest in total points (376). She has also recorded 10 double-doubles during this season. As for junior middle blocker Lataisia Saulala, is currently fourth in the conference in hitting percentage (.338), was named PacWest Defensive Player of the Week on Nov. 16.
"This season has been such a great season all-around," said, Pe'a. "This team has grinded all year long, and now that we have achieved winning our conference, it's time to go win a NCAA championship."
The Silverswords also lead the conference in kills (1,632) and service aces (205) during this 2021-2022 season.
Junior libero Tate Lutu was a part of the 2019 Chaminade women's volleyball team as a freshman, and will be heading to her second postseason as a Silversword.
These past two seasons, Kalabis-Hoke has brought in former University of Hawaii men's volleyball player Kolby Kanetake as an assistant coach for Chaminade. The Moanalua native is a two-time AVCA All-American for the Rainbow Warriors and finished his collegiate career with 775 career digs, the third-most in UH men's volleyball history. Prior to joining the Swords, Kanetake was an assistant coach at University of San Francisco, where starting libero Dalla Vecchia played before coming to Chaminade.
"Just having him here made the transition to Chaminade much easier," said Dalla Vecchia, who has 1,659 career digs in her four-year collegiate career. "Knowing his legacy here in Hawaii, I knew that his experience would help me take my game to the next level, and I'm just so proud of what our team has accomplished this season."
Chaminade PacWest Honors
Player of the Year
Brooklen Pe'a, OH
Coach of the Year
Kahala Kabalis-Hoke
All-PacWest First Team Honors
Brooklen Pe'a, OH
Alexia Brynes, S
Anna Dalla Vecchia, L
All-PacWest Second Team Honors
Kyra McCain, MB
Lataisia Saulala, MB
Greta Corti, OH