Hawaii Football Beats Colorado State in Shootout
Entering the fourth quarter of the University of Hawaii football game on Saturday night, the Rainbow Warriors looked like they just needed to do 15 minutes of mop-up duty to finish off the visiting Colorado State Rams.
The last quarter, instead, combined for 42 total points as UH held off a surging CSU team for a 50-45 win in front of 5,315 fans at T.C. Ching field Athletics Complex on Saturday night. This snaps a three-game losing streak for Hawaii (4-7, 1-5).
The offensive outburst, created in part by an opportunistic defense that scored one touchdown and forced two other turnovers, was the most points UH scored in a game since Nov. 30, 2019, when it beat Army 52-31. Rainbow Warriors junior quarterback Chevan Cordeiro threw for a season-high 406 passing yards and two touchdowns.
"All we care about at the end of the day is securing the win, and our guys did just that," said UH head coach Todd Graham, who is in his second season as the head coach.
This was a thrilling sendoff for 16 seniors on a team that has a limited chance of reaching bowl eligibility.
Back and forth … CSU started with a touchdown just a minute into the fourth quarter to narrow UH's lead to 36-24. With 7 minutes left in the game, CSU's David Bailey broke through for a 31-yard scamper to close to 36-31. The Rainbow Warriors powered out a nine-play, 76-yard drive to score on a Dedrick Parson 10-yard rush.
The teams traded back-to-back big plays, the first from CSU with a 62-yard bomb followed by a failed onside kick giving UH great field position, which Parson capped off with a 37-yard rushing touchdown.
Colorado State scored another touchdown with 17 seconds left, but UH recovered the last onside kick to end the game.
Had the game gone on for a few more minutes, UH's tired defense might have struggled to hold on, Graham said.
"We got fatigued, defensively … ," Graham said. "We were just giving up one-play touchdowns, which was uncharacteristic of us, but overall [I] was just proud of our guys fighting back and getting the win."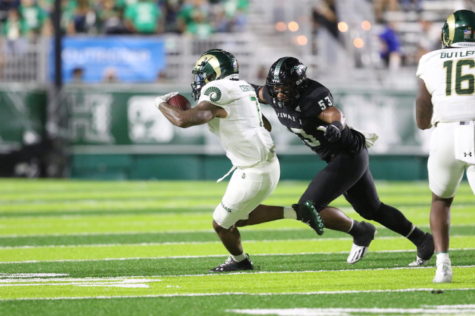 Even though Hawaii's defense couldn't seem to stop the big plays from Colorado State, junior linebacker Darius Muasau was a standout for the Rainbow Warriors all night long. He recorded 13 tackles, along with two sacks and three forced fumbles.
Hawaii put up 535 total yards of offense and five touchdowns, both highs for the season. During the second quarter of play with three minutes left, Cordeiro whipped a pass to the right hash to senior receiver Zion Bowens for 93 yards. This is the second-longest touchdown pass in school history.
The defense also tied a school mark with Cameron Lockridge's interception and 40-yard run for a pick six that matched the 1999 single-season school record of five defensive touchdowns scored.
Parson pounded out 78 yards and two touchdowns. Bowens caught six passes for a career-high 172 yards and a touchdown. CSU quarterback Todd Centeio, a redshirt senior, finished with 527 yards and five touchdowns with two interceptions.
Next week Saturday, in the season finale, Hawaii will be on road against the University of Wyoming. Kickoff will be at 10 a.m. Hawaii time. For access to the game, listen live on ESPN 1420 Honolulu or subscribe via pay-per-view on Spectrum.