CUH Volleyball Celebrates Senior Night with Sweep Against Point Loma
On Friday night, the Chaminade volleyball team celebrated a sweep against Point Loma, and with the end of the regular season, also said goodbye to three senior Silverswords: Anna Dalla Vecchia, Leka Kiner-Falefa, and Tatiana Toleafoa. The team has set a new school record of 26-5, a national rank of 25th, and are the current overall leaders of the PacWest over Biola by two wins.
The Silverswords swept the Point Loma Sea Lions 25-15, 25-15, and 25-16.
"It's definitely amazing to see our goals and hard work come to fruition [in] achieving that honor, but we have to recognize all the alumni, coaches, all the hard work that it's taken, the years that it's taken, to get to where we are," head coach Kahala Kabalis-Hoke said after the win over Point Loma. "We're just very appreciative that we're able to put everything [into a] culmination of all the efforts to have that championship mindset."
Assistant coach Kolby Kanetake, a former libero at the University of Hawaii, shared similar sentiments. 
"First of all, 26 wins, program record," Kanetake said. "And then to be first in conference and hopefully getting that win against Hilo next week and getting that conference championship, which hasn't happened since 1996. Just a crazy amount of success, and it's really nice that everything is coming together and just seeing that the hard work that they've been doing is paying off."
Senior libero/defensive specialist Anna Dalla Vecchia played a pivotal role in the Silverswords' successful season. Dalla Vecchia, who's pursuing an MBA at Chaminade, has also played volleyball for two schools prior to playing here, first at Xavier University of Louisiana, and then at University of San Francisco, where she received her bachelor's in Communications. Coming from two parents who are volleyball coaches, she mentioned she's played volleyball and only volleyball for her entire life. Her final season in her career ended with numerous new records set for the program.
She is the first Silversword to reach 600 digs in a single season with 605 digs, breaking the previous record of 489, set by Kiner-Falefa in 2019. This record also puts her as current No. 1 in digs for the 2021 PacWest stat leaders, along with being the current leader on aces with 48 under her belt this season. She also holds the new Silversword record of digs per set with a 5.17 average, breaking the previous 4.85 from Kalae Araujo in 2002.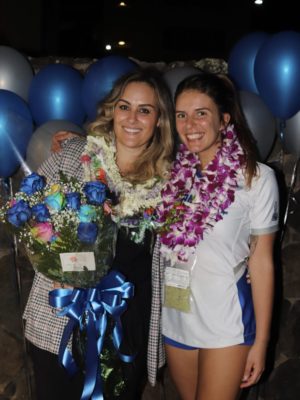 Her teammates and coaches had nothing but high praise for her.
"She's been a solid source of amazing ball control on our team, confident ball control," Kabalis-Hoke said. "Which was really nice to have somebody that wanted to take on more responsibility than just her position and help the team out however she could. She came in with a lot of experience and maturity that you could really see immediately."
Silversword setter Alexia Byrnes referred to having Dalla Vecchia on the team as a "blessing."
"She comes from a very high level of play, and she really brought that culture and that fire that we needed to make it this far this season," Byrnes said. "I don't know if we'd be able to do it without her, you know with all the records she's been breaking, and the consistency of her play has really helped us get to where we need to be. I'm really lucky to have a teammate and a friend like her."
While the records are much to talk about, Dalla Vecchia, a Vicenza, Italy native stated it was more the people who made her experience rewarding and memorable more than her performance. She doesn't view herself as one to go back and look at statistics. She stated she loves to win because it inspires her team to do well, not because it "places her on a wall."
"We all talk about records and I love it because I really enjoy playing volleyball, but the people that I met, I'm gonna remember that forever," Dalla Vecchia said. "It's been three months since I've been here but the coaches and the girls are very different from my last school. We're very very close as a team and I'm gonna remember that. Everything I saw here in Hawai'i is so different from back home."
As she reflected on the night as one of her final performances as a student-athlete, she recounted the moment as bittersweet.
"[It was] definitely a little sad at the beginning," Dalla Vecchia said. "My teammates wrote some notes on my locker in the locker room, and I was crying and bawling my eyes out. But more than sad, I was also happy because five years is a long career you know. And I played every single match at all three schools I've been in. Every single set. So it was cool how I'm done and I can get into my new adventure."
As she closes this chapter of her life, Dalla Vecchia plans to return home to Vicenza, Italy in March or April of next year after she graduates in December. From there, she wants to move to Rome to work for a company that aids people in getting scholarship to move to the U.S. much like she had the opportunity to. Beyond that, she plans to continue playing volleyball, beach volleyball specifically, and aspires to win a national championship in Italy for it as well as open a school to teach beach volleyball back home.
"Here I'm not close to my family and I really really miss them, so I'm thinking about going back and starting a business there," Dalla Vecchia said. "I have a lot to give, a lot of experience to give so I feel like maybe tomorrow, maybe in three years, eventually my volleyball career is going to end at some point. I definitely want to make sure I pass it on."
"We're gonna miss her a lot," said Kanetake, "but she's definitely shown the underclassmen how things should be done and has helped make a footprint in our culture for years to come."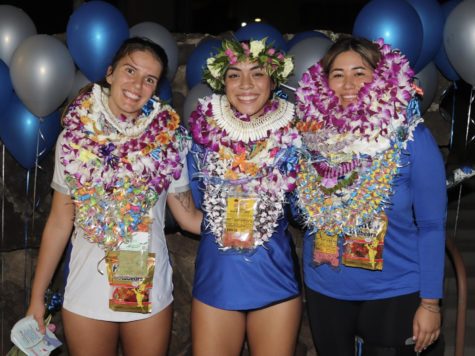 The other two seniors who were honored Friday night are Tatiana Toleafoa, a Psychology major from Union City, Calif. and Leka Kiner-Falefa, a Business Administration bachelor's graduate from Honolulu.
Toleafoa was a large contributor to Chaminade becoming first in the PacWest as they swept Azusa Pacific earlier in the week. Finer-Kalefa was set to be the starting libero for the season but was unable to compete after a knee injury at the beginning of August.
Chaminade Volleyball's last game of the season will take place on Nov. 19 against UH Hilo.