First CUH Sporting Event Since Covid Stirs Excitement
The shortest fall season in history for the Chaminade University men's golf team began on Nov. 10 and ended a day later. Despite the short fall season, the team was grateful for the opportunity to be the only sport in the Pacific West Conference to have a tournament this semester with the Hawaii Pacific University men's golf team since their spring season was cut short due to Covid-19.
It's been 241 days since their last tournament in the Bay Area was canceled, and the Chaminade men's golf team was excited to compete again for a two-day tournament at the Pearl Country Club against Hawaii Pacific University men's golf team on Nov. 9 and 10. Being able to compete again was a humbling experience for those who were sent home early from a competition in Northern California on March 12  of this year after the Pac West Conference announced all sports seasons were suspended until further notice.
Many students on the CUH men's golf team kept up with their practice on their own, either with their own backyard setups like CUH Communications major Desmond Mello or similar to Coby Gunderson who was able to practice on the different private courses over the summer and before the beginning of the fall season. A recurring theme of responses between the team of what they missed most was being able to practice with their fellow teammates.
"I missed golf a lot, I missed playing with the team," said Gunderson, a Biology major. "There were a good amount of golf courses open during the summer, like Bayview or Lelehua … I would go three or four times a week to practice and keep up with it hoping the season would start up again in the fall. … I feel privileged to be the first team being able to play since Covid happened, so my goal is to play with honor and I gotta try and represent the school."
Chaminade and Hawaii Pacific University tied on both days of the tournament, scoring a 314-314 on Monday and 311-311 on Tuesday. The individual CUH winners for the two-day-tournament was Sophmore Schulyer Peterson on Monday and co-winners Jeren Nishimoto and Mello on Tuesday.
For Mello, a returning senior, the sudden end of the season in the spring affected his plans. From competing in tournaments on the mainland and having the opportunity to travel, Covid-19 and the rise of the global pandemic got in his way.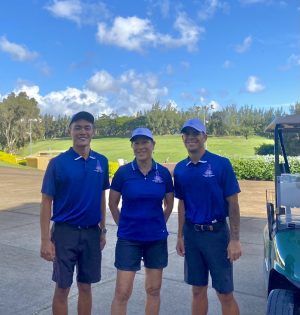 "After the trying times of coronavirus, what was supposed to be my senior season ended pretty abruptly because we were currently in a tournament in Oakland and then the pandemic hit and they had to cancel everyone's season," Mello said. "So since then, it's been a lot of practicing and hitting in my backyard [of Kaneohe]. … I've been just trying to stay positive and it's been really good being able to be back with the team and the boys and having the chance to play against HPU instead of just playing with ourselves and practicing at my place."
Shortly after the cancellation of their spring season, on April 1, Honolulu Mayor Kirk Caldwell ordered all county golf courses to shut down with the exception of privately owned courses. For the ones that remained open, there were rules about the limited number of players [four], having to drive individual golf carts, and no more than two groups per hole.
Even students from Hawaii Pacific University men's golf team were anxious to get back out on the courses and admitted how they felt lucky to even have the chance to have a tournament this fall, even though it was brief.
The Hawaii Pacific University men's golf team was also looking forward to having the chance to participate in tournaments once again after the long break. After the tournament, a member of the HPU men's golf team Keliiokalani Kamelamela-Dudoit mentioned how he felt it was an honor to be able to participate in a tournament this semester. The Environmental Studies major explained how preparing and practicing for the tournament was different this year, but with the help of their team's head golf coach Ed Kageyama, they all managed to stay prepared for the potential start of the brief fall season.
"I feel lucky to just compete with other teams in the PacWest, and it's exciting because it's our second match…" the 20-year-old Kamelamela-Dudoit said. "… It's only the fall semester, so heading into the spring season my goal is to try and add on to this season and learn from this past tournament and matches and find ways to get better since we all perform differently under pressure. The objective is to basically win."
As this fall season ends, the PacWest Conference announced on Nov. 12 that all sports championships will resume next spring in accordance with state guidelines. The basketball season will begin in mid-January and continue through the beginning of March. Soccer will resume conference in early February to early March. Women's volleyball will compete from mid-March to late April. Golf, tennis, track and field, and the cross country schedules will be announced at a later date.
For more information on the championship sports and specific dates, please visit goswords.com.