Silverswords Face Uncertain Senior Seasons
The 2020-2021 athletic season is turning out to be a year full of mixed feelings for some and a complete letdown for others. The NCAA has announced that Fall championships for both Division II and Division III have been cancelled due to concern of Covid-19. Although the fall championships are no longer happening, many athletes are still wondering whether or not they will get to play their final year of competitive sports before entering the real world. Others were hoping to take advantage of the extra free-time while they enjoy their senior year sleeping-in and worrying less about their frequent laundry routines.
Regardless of how the season is yet to unfold, the responses are quite different. On top of that, students are stuck weighing out their options on whether or not a fifth year is both realistic and financially possible.  
"Personally, I would want to try do to an extra year and play because you can't do college sports in any other part of your life but now, and it has always been a dream of mine to play college golf," said Colby Gunderson, a senior athlete on the men's golf team at Chaminade. "I want to [play another year] but it's really hard to find extra classes and find extra scholarships to get me to play in the next year."
Gunderson has been playing the game of golf since he was 4 years old and has high hopes that he can take advantage of one last season of college athletics. In regards to opting out, Gunderson feels that his returning team, along with two returning seniors, was looking to be a promising year. Despite his urge to play, he plans on attending medical school in the fall regardless of the outcome of the 2020-2021 season.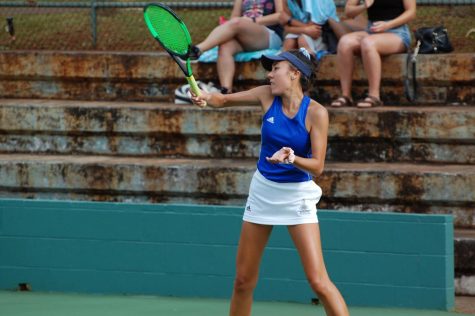 Many other senior athletes are also yearning for a season but cannot guarantee they will be back if they aren't given one this year. Senior tennis player, Catrina Liner, feels indifferent about her situation. Liner loves the sport of tennis, however, has anticipation to further her education by attending graduate school, so returning for another season is no longer an option.
"I think there are two sides of it where I would have a lot more time to focus on school and everything else, and I do like that part of it," Liner said. "But it's also my senior year and of course I like my teammates, so I would be sad in that sense but like I said, it's on both sides. I wouldn't be devastated [if the season were cancelled] and I wouldn't be happy."
Although Liner feels neutral about the potential cancellation of the season, many other athletes feel strongly about the matter. Rachel Reedy has been at CUH since her freshman year studying nursing and playing volleyball. She has dealt with a rigorous amount of coursework along with a full-time commitment to volleyball. If the season were to get cancelled this year, she would have a lot more time to focus on her studies and enjoy time off campus, similar to most college students in Hawaii.
"With the dedication of school and volleyball as my priority the last few years, I'm kind of down to focus on doing the things that I love, enjoy the island, going to the beaches, and hanging out with friends," said Reedy, a senior athlete on the woman's volleyball team. "But if it really came to the end of the year and we were never able to play, I would be devastated."
Senior pitcher and recently named team captain Maddy Stockslager was beyond excited to compete with her friends and teammates one last time before leaving collegiate athletics behind for good. However, if that is unable to happen, she is ready to accept the outcome and move on to grad school the following year to study physical therapy or sports medicine.
"Of course I'll be devastated if we don't get to play, but I know that everything I worked for wasn't for nothing," Stockslager said. "Everything I worked for was to make it to college and play collegiate sports, and that's exactly what I did."