Swords' Seniors See Final Season Cut Short
All senior athletes at Chaminade had their seasons come to a close due to the coronavirus outbreak. As the NCAA announced on March 12, all spring sports will be cancelled. Athletes from golf, softball, and tennis had shared their thoughts about the pandemic halting their seasons.
"It is what it is; it was all fun while it lasted," said senior captain for the Chaminade men's golf team Jeren Nishimoto. "To the school, my coach, and my teammates, there was just no better place to play, and I just didn't expect in a million years for my season to end like this." 
Nishimoto, a Honolulu native, will be graduating with a degree in Business this spring. During his junior season, he led the team in average score of 77 and earned his first and only career victory in a dual match 4-under-par 68 against Hawaii Pacific on Oct. 16, 2018, at Leilehua Golf Course.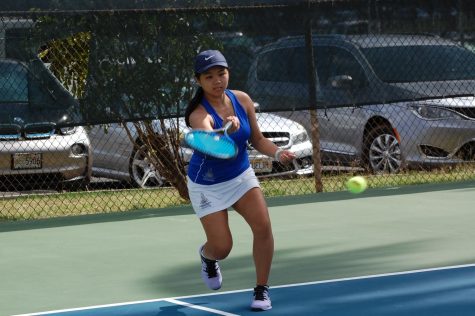 Senior Kaitlyn Castillo from Chaminade softball was looking forward to completing her final season, though it was cut short just 12 games into her last campaign.
"I felt like this was going to be a great year for my team," Castillo said. "Senior night was also something I was looking forward to, being able to celebrate the 4 years I dedicated to the program with my team and family." 
Castillo, a Maui native, will be graduating in Forensic Science and a minor in Chemistry. She was also the only senior on the Chaminade softball team, leaving her unable to celebrate her final season with her teammates and coaches. 
The cancellation of sports for these seniors are in complete shock. Many never finished the season the way they wanted.  
Tomomi Kohno, a senior for Chaminade tennis, is leaving the program after playing with Chaminade for three years and is looking to use her eligibility elsewhere to play tennis for another collegiate program. She was grateful the NCAA gave the athletes another year for those seniors who had their seasons cut short.
 "It was the right decision on their end and I think [seniors] are happy about that," said Kohno.
Kohno, a Japan native, is graduating this spring in Psychology. She wasn't with the tennis team during her sophomore year as she took the year off to focus on school. 
Fellow tennis teammate Elyssa Shirai, a Waipahu native, who is also a senior mentioned her thoughts about how the NCAA extended an extra year of eligibility to seniors.  
"I thought it was generous of them to do that so it does give some seniors another chance at a full season," said Shirai, who has opted to not use the extra year.