What You Do Not See Of The Maui Invitational
All my life I have been watching college basketball tournaments. And a huge section of that childhood is watching the Maui Invitational every November. When it was my time to be recruited and make a decision on where I would go to school to further my education and to excel in basketball, Chaminade University quickly became my final decision, primarily to compete in this tournament that I have grown up watching.
The Maui Jim Invitational basketball tournament is one of the most respected and established college basketball tournaments in the world. Millions of people tune in every year to watch some of the best programs in history (Kansas, Michigan State, Duke, Kentucky and UCLA) compete for the title in Maui.
However, that is only from a spectator's perspective. I got to live the dream and experience the athlete's side of what it is like to be in this tournament. It is easy to assume that as players participating in the Maui Jim, all you do is practice and play, and occasionally enjoy the beauty of Maui. But there is so much more than just playing basketball.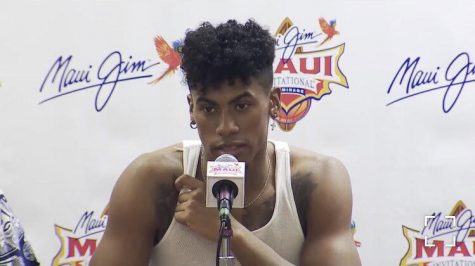 Day 1 (Sunday): Stepping off the plane and arriving in Maui is just a moment in itself. However, that is not what blew my mind; the royal treatment you get for just being in this tournament is out of this world. As soon as I stepped off the plane, there were cameras, fans and spectators just zooming in on us, cheering and asking for pictures and signatures. So yes I did milk the cow a little bit and took advantage of the attention. Anyhow, after being "famous," we arrived at the hotel where there were more spectators and cameras, but moving swiftly through that process we got to our assigned rooms. Bearing in mind that I have been living in the Hale Pohaku dorm on Chaminade University campus for almost two years, this four-night trip in the Great Western Hotel was incredible. A room costs over $600 per person, per night. I had a double bed, a balcony of the amazing view of the beach, room service, gift boxes from the hotel, and (my favorite part) a silk robe!
After we got situated, we had practice, as normal. But because it was the first day of every team arriving into the tournament, there was a banquet dinner where the whole tournament came together to meet and greet, eat some good food and be orientated into the tournament by the hosts, where there were all the teams, coaches, spectators all grouped together watching this amazing show from the local hula dancers.
Day 2 (Monday): Game day! How this day went was pretty straight forward of a typical game day. We had a morning practice, downtime and then matched up against one the Kansas Jayhawks, one of the top five teams in the country. Despite losing 93-63, it was one of the most thrilling games I have ever played in my life. Kansas traveled with over 2,000 fans to Maui. The Lahaina Civic Center was immensely loud; I couldn't even hear my own teammates sometimes. ESPN cameras were everywhere I looked. Chaminade got a feel for what it's like to play in a high-major Division I environment, which was great for us.
After the game, we had a huge team meal, which was what any student-athlete could ask for because it was an all-you-can-eat buffet next to the beach. There were mood-setting lights, beautiful women singing on the piano and just all-round good food. Including steak! But to top off the whole night and the sympathy binging of steak from our ass whooping from Kansas, we got escorted to a workshop where we got to try on, get fitted and have for free our own pair of Maui Jim sunglasses. This is so cool because, well, they were free. So I asked the lady serving me which pair was the most expensive, and so those were the ones I have. After that, we all went to a film session with our team as we played UCLA the next day.
Day 3 (Tuesday): This was straight forward as we were done with orientation and a lot of the logistics. However, despite another 74-48 blowout to UCLA, this was the most exciting day of them all. Because in the evening when we were at dinner, the tournament hosted a huge event where all teams were together, and each team picked two players from each program to represent their school in a dance contest. This dance contest was recorded by ESPN, and the selected players had to go up on a big stage in front of hundreds of people, where they were directed by two hula dancers. The best reaction from the crowd determined who would go through onto the next day. Unfortunately, dancing is something that isn't in the Swords' playbook. Redshirt freshman Kobe Young (from Honolulu) made it all the way to the final and lost to a player from Michigan State.
Day 4 (Wednesday): The last day of the Maui Invitational was our last chance to get a shot at beating a high-major Division I team. We went head to head against Georgia, who was led by Anthony Edwards (a projected top-three pick in the 2020 NBA Draft), who had just scored 40 points on Michigan State on Tuesday. But nevertheless, we were up a good portion of the game and there were a lot of lead changes. With 2 seconds left on the clock and the score tied at 77, Edwards pulled up from the NBA range and knocked down the shot that crushed our Maui magic dreams. That was heartbreaking to have been so close to this win, but to have kept up with and competed at a high level shown a lot of character from our team! Day 4 finished off with a booster event from the Chaminade University Booster Club where we had to dress up and attend a private dinner at the Sheraton Hotel just a couple of minutes away from our hotel. I would have worn my complimentary robe if I could have, but that wasn't the dress code. The food and conversation was amazing, and the support and love we got from our school and community was amazing. Overall, it was one of the best experiences of my life.