CUH Women's Volleyball Ends Season With Win
The Chaminade University of Honolulu women's volleyball team wrapped up the 2019 season on Saturday afternoon with a 3-0 win (25-11, 25-13, 25-17) against Holy Names University. The match took place at McCabe Gymnasium and was followed by a Senior Day celebration.
The Silverswords ended the year with 22-8 overall record and 16-6 mark in the PacWest Conference. These 22 wins placed the team directly behind last year's 23 wins, which was a program best and made CUH history. The team finished third in the PacWest Conference, behind Azusa Pacific and UH-Hilo and just ahead of Hawaii Pacific University.
"I'm really proud of this group of young ladies," head coach Kahala Kabalis Hoke said. "They have risen our level of expectation, brought up our standards and are taking this program to a whole new level."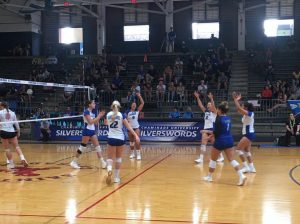 Senior outside hitter Emma Tecklenburg led the team with 14 kills and only two errors on 20 attempts. Senior outside hitter Alana Handy followed close behind, despite having a partially fractured hip, hip impingements, and a torn labrum. She finished with 10 kills on 16 attempts with only two errors. Junior libero Leka Kiner-Falefa made 15 digs, breaking the single-season record (481) with 489 total digs. 
"Even though we were just short of reaching our regional goal and our conference goal, I thought they put it all out there tonight and had a great energy," Kabalis Hoke said. 
A meeting, which took place between the Silversword team in the locker room before the match, had the team members in tears. This emotion carried over as seniors Nina Torio, Isabella Tessitore, Enos, Handy, and Tecklenburg were recognized and celebrated for their achievements throughout their collegiate volleyball career.
"It's hard," said junior hitter Rachel Reedy, who had the second-most kills on the team this season. "It's something you think about all season, planning Senior Night and thinking about how it's going to be over. And it's definitely sentimental, but I think, looking back, it's just all really good memories and it's a time to celebrate. We know it has to come to an end, but I'm just really thankful for this team and these girls. I wouldn't have wanted to do it with anyone else."
Enos began her Silversword career as libero, then transitioned into one of the top setters in CUH history. She has played three seasons with over 200 assists, as well as over 200 kills. She returned to Chaminade this year after a two-year hiatus and will be graduating in spring with a degree in Psychology.
Handy transferred to Chaminade last season from Bethune-Cookman University. During the 2018 season, she was named PacWest Player of the Week (Nov. 12) and named Pacific West Conference Newcomer of the Year. She will graduate with a degree in Elementary Education.
Tessitore is a three-time Academic All-PacWest honoree and will be finishing up her Chaminade career with a degree in Business Administration.
Tecklenburg was a freshman starter in 2016. She was also a three-time Academic All-PacWest honoree and will be graduating in the spring with a degree in Criminology and Criminal Justice.
In 2017, Torio played in all 28 matches and finished the season as second on the team in digs and third in aces. In the following season, she was the starting libero. Torio looks to end her four years at Chaminade with a perfect 4.0 GPA and will graduate with a degree in Business Administration.
"It's bittersweet for sure," Handy said. "I've been struggling with some injuries this past season, so it's good to know that I can recover from that. But I'm definitely going to miss this environment, playing with these girls, and being a Silversword."