Women's hoops are not fazed by start to season
With the basketball season underway, the Chaminade Silverswords women's basketball team kicked off its season in Alaska last week. Despite the rough 0-2 start with two blowout losses to the 2019-20 season, the Swords see a lot of promise this year with the core they have returning.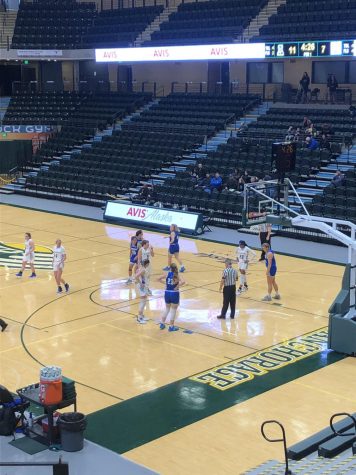 "We are looking forward to an exciting new year," said head coach Arthur King. "We will be a young team but with the leadership of our seniors Kali Benavente,  Destiny Castro, and Breann Nueku, we are confident that we will find success this year."
The Silverswords have been officially practicing since October 15. And ever since that day, their eyes have been on the goal of reaching the PacWest Conference tournament. With a tough loss to Azusa Pacific last season, it took away their hopes to be among the top six teams and make the PacWest Conference Tournament in March. However, this year is a new year and they strongly believe in each other and the system to beat last year's record of 7-19 overall and 6-16 in the conference.
"I think our team has a lot of talent," said sophomore guard Jamia Bailey. "And the potential to reach the conference tournament this year would be huge, but not the end goal as we want to go further than that.
The Swords began their season in Alaska as they competed against Alaska Anchorage and Alaska Fairbanks, two very established programs. Anchorage was ranked ninth in the nation in the preseason poll. However, coming home back to Hawaii empty-handed didn't defeat them as they still believe they are on the right path.
"We have a challenging preseason schedule," said sophomore guard Jordyn Zader. "We can take a lot away from it and use it to improve this season."
The women's basketball team is being led by their returning guard Castro, who as a junior became the program's first Pacific West Conference First Team honoree since 2007 and the first player in program history to earn D2CCA All-West Region honors. Castro, a 5-foot-6 guard, also earned the PacWest Player of the Week three times. Benavente started 17 games last season and she and Castro both played for the Guam national team over the summer.
On Saturday, the Swords went head to head in a home game against the University of Minnesota Crookston but were defeated 68-65. The Silverswords were led by their main scorers Ellyonna Bankofier, a sophomore guard, with 17 points, and Castro who put up 16 points, 6 rebounds and 5 steals.
"We need these games to show us where we are at," said sophomore forward Grace Underhill. "We knew our preseason schedule and [the] beginning of our season schedule was going to be tough, but if anything that benefits us and will help us in the long run."
During Thanksgiving break, the Lady Swords will be competing in the Malika Sports Thanksgiving Classic, which will consist of Sioux Falls University and Cal State San Marcos on Nov. 26 and Nov. 28 at the Shark Tank in St. Francis High School in Honolulu. The first PacWest action will be against Azusa Pacific on Dec. 4 at McCabe Gymnasium.