Swords Fall Short on Boards to UH
The Chaminade University men's basketball team met up against their Division I neighbor, the University of Hawaii, for an exhibition game Wednesday night. The Sliverswords lost 83-66 in front of an announced crowd of 4,467 at the Stan Sheriff Center in a preseason exhibition game.
The story of the game was the rebounding of Hawaii. The Warriors were owning the boards with 53 total rebounds and 22 coming from the offensive glass. Although the Swords shot better from the filed (44.1 percent to 43.8 percent), Hawaii was getting second-chance opportunities from missed shots and turned it into 27 points, which hurt the Swords all night. Hawaii's 22 offensive boards nearly matched than the 24 total boards Chaminade corralled the whole game.
"It was great for our guys to play against a quality team like Hawaii," said coach Eric Bovaird, who entered his ninth year as head coach for Chaminade. "We just gave them too many second-chance opportunities and we needed to rebound a lot better if we want to compete at this level."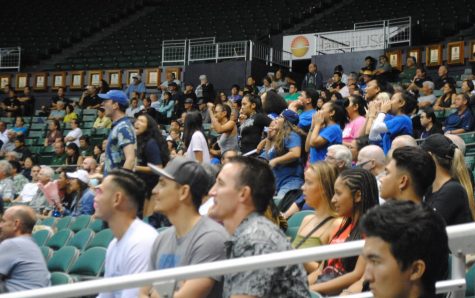 The Silverswords showed enormous hustle and fought hard on defense, but the Warriors were just too big and powerful under the rim. Chaminade's full-court defensive press showed promise as they came up with eight steals on the night directly from the press. But when the Warriors got the ball across halfcourt, the consistent ball movement and patient offensive eventually got the ball down low, where they pounded the glass on Chaminade.
Chaminade was hurt by fouls, putting the Warriors on the free-throw line early in the second half. At one point the fouls were 12-3 in favor of Hawaii. Chaminade kept the game close with its slashing style of offense and rapid ball movement, leading to wide open lay-ups.
Senior wing Tyler Cartaino led all scorers with 24 points to go along with 6 rebounds and 1 assist. Cartaino shot 50 percent from the field going 10-for-20.
Senior guard Kendall Small added 12 points, and senior guard Andre Arissol added 9 points with two made 3-pointers.
Hawaii had three scorers in double figures, led by 6-foot-9 forward Zigmars Raimo's double double (19 points and 12 rebounds). Dawson Cooper, a 7-footer, snagged 14 rebounds while chipping in with 8 points.
"They were big and they had great ball movement," said Cartaino, who was selected to the All-Preseason Pacific West Conference Team. "We just have to get back to work because now we know what we have to get better at, and if we want to reach our goal, which is to win our conference, we have to continue to get better each day."
Despite being the Division II underdog, Chaminade had its own section of cheerleaders in the stands trying to pump up the team during the game. The section of fans were just as loud if not louder than the entire rest of the people who were supporting UH.
"I like to think of this as a tune-up game to start our season," Bovaird said. "I feel that it also benefits us confidence wise because by playing against a Division I program, it  can only help us in the long run."
Chaminade regular season opener is set for Nov. 9 against the University of Alaska in the PacWest/GNAC challenge in Alaska. The Swords have been picked to finish third out of 12 teams in the PacWest preseason coaches poll.