CUH Enjoys 'Development,' 'Growth' With New Locker Rooms
Chaminade University has invested in its athletic department and its student-athletes by completing the school's first-ever locker room, which has been up and running for all athletes and staff since August.
"It is something that was much needed for our athletes, and I am glad we finally have this for everyone to share and enjoy," said athletic director Bill Villa. "It's a major commitment by our university in wanting to support our athletes and the program, it paves the way for the development and growth of our programs."
The $3 million investment includes two male and two female locker rooms, accompanied by each athlete having their own personal locker. The locker rooms also contain showers and bathrooms. Chaminade also has a new athletic training room next to the locker rooms for athletes to get treated and prepared for all competitions and practices.
The silverswords new locker rooms and athletic training facility is located between the McCabe gymnasium and Henry Hall. A location suitable for athletes to have quick access to their locker, and the athletic trainers from where they compete and practice.
"This so necessary, it really does add quality to our program," said Roman Young, a junior guard for men's basketball. "All other schools have a locker room, and it was about time our school had one. It just makes life easier."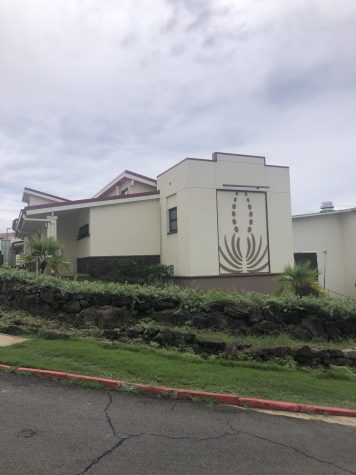 Before the athletic training room that Chaminade used did not have enough room to fit any more than three athletes and two trainers at a time. This resulted in a lot of waiting and frustration between athletes and staff as most athletes waiting to be seen would have to go outside and wait, or reschedule for another time.
The new athletic training room has its own office area inside the building that gives the trainers a private space, which is even soundproof to give privacy in meetings with athletes. The new training room now has more areas and tools, including tables, ice baths, ultrasound, and other machines that will allow trainers to treat the athletes at a higher level.
These new locker rooms are the school's first only athlete-specific locker rooms in Chaminade history. Previously, Chaminade shared a locker room with St. Louis, the high school that shares the same campus as Chaminade. A lot of the athletes in Chaminade are either transfers from Division I or Division II programs, or are recruited from prestigious high schools around the country. Often they have been used to having these luxuries before. Now they feel comfortable with such a place to hang out, put their practice gear in and shower when they can.
"I love having the locker rooms as a place to get pumped up before games," said women's volleyball junior outside hitter Rachel Reedy. "When I first heard about having this for my last two years I got so excited. Glad it's finally here."