Men's Soccer Defender Shoots for Scoring Record
In soccer, most people would think that a forward would have the best chance to be the all-time leading scorer.
However, Curtis Coburn, who has started all four years as a defender, is just three goals shy of becoming Chaminade's new all-time men's soccer scoring leader. The 6-foot-3 defender from California has seven career goals in 45 starts.
"I try not to think too much about setting the record," Coburn said. "I can't help that sometimes it pops into my mind. I mean, of course it would be awesome to get the record, though."
With Coburn's help, Chaminade has started the season with a 3-2 mark (1-0 PacWest play). The Swords are in the midst of a five-match homestand and will play rival Hawaii Pacific University on Saturday at 2:30 p.m. at Saint Louis Field. HPU trounced CUH 4-0 in their first matchup on Sept. 26.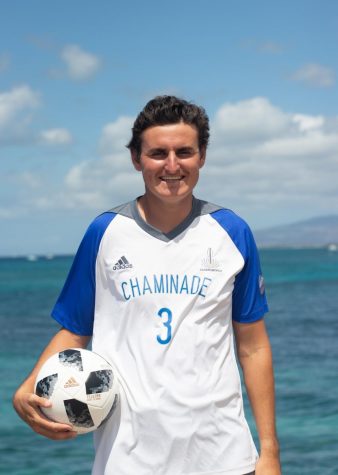 Coburn began to play competitive soccer at the age of 3 against his older brother. His passion and love for the game just kept growing. He played club soccer for many seasons, and as he entered his junior year at Huntington Beach High School, he knew that he wanted to take his talents to the next level. Coburn was a two-year varsity starter and was named the Sunset League Defensive Player of the Year for his junior and senior seasons.
The Huntington Beach native received an offer from Chaminade University during his senior year that he couldn't turn down.
"Can't complain about coming out to Hawaii," Coburn said. "I can come out here and compete on the soccer field and also get a good academic degree from Chaminade University."
Coburn entered his final season for the Silverswords as a fourth-year starter. In his first two seasons playing for Chaminade, he received Academic All-PacWest honors and also set the single-season record with three game-winning goals as a freshman. During his sophomore season, he was announced as the team's scholar-athlete of the year. In 2018, Coburn helped lead the program to its first ever winning season (6-5-2). He started in all 13 matches and played 1,205 minutes, which is the most among any of the field players.
As a defender, he helped hold the opposing teams to 1.38 goals per game, the lowest in program history.
"Curtis has been a huge part of this program's success," said head coach Jayson Abe, who has entered his fourth year and is the program's all-time winningest coach. "Curtis has come along way in terms of his overall development and maturity. As a senior he has a very humble team first approach and continues to do whatever it takes to make this team better."
Coburn is tied for third with seven career goals and needs two to tie and three to break the record. Sam Galloway (2012-13), who was a junior transfer from Bowling Green and played as a midfielder for the Swords sits at the top with nine. Nicolas Ferro, who graduated from Chaminade University in 2015 and also played as a midfielder, is in second place overall with eight goals.
Coburn has yet to score a goal through the first five games, but he has recorded an assist in the 2-1 win over Notre Dame de Namur on Oct. 6.
"I want him to enjoy every moment of his last year," Abe said. "But I also think it would be cool to see him score a few more goals to become Chaminade's all-time scoring leader, which would be pretty remarkable from a defender."