Houston Rockets Take off Over LA Clippers
The NBA and the state of Hawaii seem to go very well together as the preseason games have begun. With dominant rosters and super teams spreading across the league, the Stan Sheriff Center was a sellout crowd to see new powerhouses in action.
The LA Clippers and the Houston Rockets faced off in Thursday's outing where Houston came out on top with a 109-96 victory.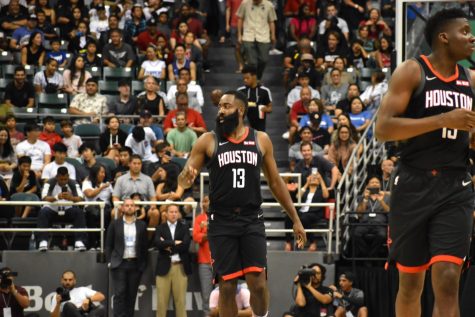 Unfortunately, the dynamic duo of Russell Westbrook and James Harden was not on display as Westbrook sat Thursday's game due to having a pair of minor surgeries to his hand and right knee in May. That knee was initially injured in the 2013 playoffs against the Rockets when former Houston point guard now LA point guard Patrick Beverley crashed into him, and he's had several associated procedures since.
Harden took over the game and finished with 37 points, 7 rebounds and 7 assists in the 28 minutes he played. Harden had 26 points going into the third quarter, ending on a one-legged shuffle sidestep to end the third going into the fourth where Houston would go on an 11-4 run to start the last quarter.
"I enjoyed it," Harden said after the game. "It's great for us and me to be able to go up against different people other than ourselves, try new offenses and new moves."
Houston has shown immense talent across the board as James Harden was helped by  teammates Clint Capela (14 points, 11 rebounds), Chris Clemons (15 points, 4 rebounds) and and Ben McLemore (9 points). 
But the Clippers didn't go away so easily, as Doc Rivers' side had numerous chances to shut down Harden and the Rockets. The Clippers had four players in double digits, Montrezl Harrell with 17 points, Lou Willams with 13 points, Amir Coffey with 10 points and Rodney McGruder with 12 points. With the absence of star players Paul George and Kawhi Leonard, Houston head coach Mike D'Antoni was still confident in his team going into the preseason game.
"I love where we are at at this moment in time," D'Antoni said after the game. "With James just opening up the floor, it's easy to coach. He loves the game of basketball and it shows; it bleeds through our team and it's hard to get him off the floor."
The Los Angeles players are also in good sights for the season as they believe they are going to be a threat for most teams this season.
"This team has the potential to do damage this year," power forward Jerome Robinson of the Clippers said before the game. "There is a lot of weapons, and it's exciting to see how teams will guard us when we all are out there on the floor." 
Houston will now head to Japan in preparation for their next game on Tuesday against the reigning NBA champions Toronto Raptors in the Saitama Super Arena in Tokyo. The Clippers will be playing the Shangai Sharks on Sunday at 1 p.m. at the Stan Sheriff Center.