New CUH Athletic Trainer Reaches Dream Destination
Caroline Shafer has always dreamt of moving to Hawaii. As she has moved all over the U.S., from Ohio to Colorado then to North Carolina, the 29-year-old athletic trainer had her eye on the islands in the Pacific for a very long time.
In May, Shafer came upon an opportunity to apply for a job at Chaminade's rival Hawaii Pacific University as the assistant athletic trainer. However, Shafer's fairytale took a U-turn as a new door opened with Chaminade University with a full-time head athletic trainer vacancy. Shafer had to jump ships between the rival schools as she found it to be much more of a promising opportunity because it would allow her to have a higher status in her work field, creating more opportunities in the future for Shafer. 
Shafer arrived on the island at the end of June. Being here just over three months, Shafer has been able to settle in and climatize very smoothly. Shafer has started her first season with Chaminade University, primarily focusing on the women's volleyball, men's basketball, and softball teams.
"Being here so far has been a blast," Shafer said. "I came out a week early just to be a tourist, but I love going to the beach that is practically in my back yard. I'm used to lakes as beach days, but Hawaii is much better, especially better than North Carolina."
Born and raised in northern Ohio, the farm life was the norm for Shafer. She was one of a graduating class of 43 students in rural Ohio and had family living within walking distance of her own home. But her mother always encouraged her two children to travel, and Shafer's work and talent in athletic training sprouted job opportunities around the country.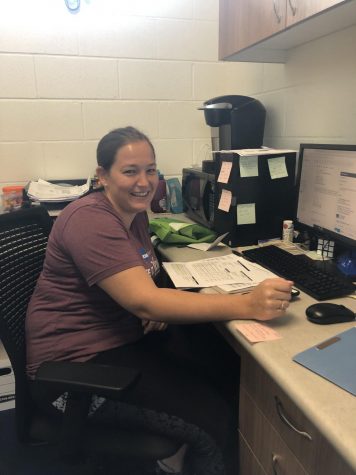 "My mom always saw hometown kids go to hometown universities and never left town," Shafer said. "And so she really pushed us to go and travel and follow our hearts." 
She earned a bachelor's degree in athletic training from Otterbein University. After, she left Ohio and continued her journey to gain a master's in science and sports medicine at the University of Colorado in Colorado Springs in 2018. Soon after, Shafer became the assistant athletic trainer at the University of Mount Olive. Leading her to become the head athletic trainer for the silverswords.
Despite her gift of curing and treating high-end athletes, Shafer also has another hidden talent/obsession that many are aware of by her personality and working environment. She loves Disney. Shafer openly plays Disney movies in her office when she gets free time and is off duty. She even likes to work with the music playlists of her favorite Disney songs in the background. It all started when she was younger and got spoiled by her family because she was one of the only girls in her family. 
"I just love the adventure and every exciting story that Disney brings," said Shafer passionately. "I just love it. There is always a movie or scene where I would reflect and think, 'That would totally describe my day today' you know." 
Caroline Shafer is young and experienced and will continue to support all athletes at Chaminade University throughout their seasons. The adventurous and ambitious trainer doesn't plan on venturing out to anywhere else anytime soon and plans to make Hawaii home for a good while.