Women's Soccer Senior Defends Till the End
The Chaminade University of Honolulu women's soccer team started its season opener against Dallas Baptist University on Saturday, Sept. 14, 2019 on the Saint Louis Field. The team lost 2-1, but senior defender Kirstin Wong scored CUH's only goal of the game with a penalty kick in the 48th minute, and she played all 90 minutes of the game.
The last time she wasn't on the field was Oct. 9, 2017. For 22 straight games, she has played every single minute, a remarkable streak of 2,093 consecutive minutes played. In her college career, she has 44 starts in 45 games with a total of 4,047 minutes played.
"She is mentally strong," said head coach Michelle Richardson, who is in her seventh season at CUH. "She's physically fit, and she comes in [to the preseason] fit. She has the drive to want to play all the time and that she doesn't want to come out. So I think that it's important that players want to have that drive to push through exhaustion."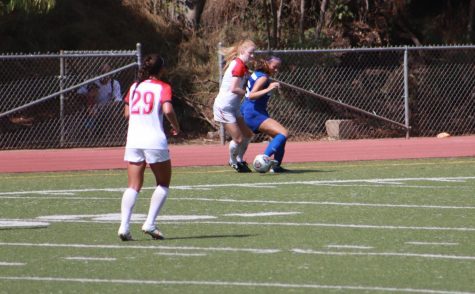 During her first three years on the team, she had gotten to start all 43 matches and had played all the way through without having to be subbed out. Last year she was able to play all the way through the season. Last season Wong had played a total of 1,300 minutes with and had attempted six shots having two of those shots counted as goals.  
During her high school years in California, she did not get to see all minutes but she did play with an outside club where she did play all minutes.
"High school was different," Wong said. "High school I played with Division I players that had already committed to big schools like UCLA and USC, so I didn't see as many minutes. But I learned a lot, and [in] club I did full minutes with an amazing team in Orange County and they both taught me a lot. [In] high school … I really learned a lot from not playing."
Having been the first game of season, CUH has a total of 11 freshmen, and of the 16 players who saw time in the opener, five were freshmen seeing their first collegiate action. Freshman Naomi Takata, a Pearl City alumna, played all 90 minutes in goal and made six saves in her debut.
"It was good to see the freshmen, they were way better than expected," Wong said. "Last year we learned a lot and [are] continuing to learn, and it's good to see that we have a connection on this first game." 
Chaminade will need big efforts from its freshmen if it hopes to end a 22-game losing streak to HPU on Thursday. The Swords haven't beaten the Sharks since Sept. 8, 2008. They lost both matchups last season, but both were decided by a lone goal each. CUH was winning the first matchup until the 88th minute when HPU scored on a penalty kick to force overtime.
"I hope to stick it to them," Wong said, "because it's always a very, very close game."
Chaminade will face HPU Thursday at the Waipio Soccer Complex. The game starts at 12:30 p.m.