Hawaii Men's Volleyball Sweeps Stanford
Today was Super Bowl Sunday, but it was also game day for the University of Hawaii men's volleyball team. This past Friday and Sunday at the Stan Sheriff Center, the 2nd-ranked Rainbow Warriors swept No. 8 ranked Stanford 25-15, 25-18, 25-16 to maintain their undefeated season at 5-0.
This Sunday's game was short as the Rainbow Warriors dominated the 3 set game. Leading the night was senior Stijn van Tilburg, who had 12 kills with a .444 hitting percentage. Rado Parapunov, the Bulgaria native, had 10 kills and hit .558. Along with 4 service aces, Parapunov finished the game with a tip. Senior setter Joe Worsley had 34 assists, 6 kills on a .714 hitting percentage, and 9 digs. 
"We did a great job executing our tactics, our strategy, there is some stuff we got to work on, but it's the beginning of the season … it's a long way to the end, so we have time to improve and work on it, " said the 6-9 opposite, Parapunov.
The team had recorded 4.5 blocks while Stanford had 3.5.
The Warriors took control in Set 1 as they kept Stanford to 25-15. Patrick Gasman's hits were too quick for Stanford as he pounded 3 kills into the floor, hitting a .500 for the night. Later in the set, the gym went wild after setter, Worsley, got a solo block.
Set 2 was close as the Bows were tied with Stanford up to 16-16 until Colton Cowell slammed a kill to give the Rainbow Warriors what they needed to take the lead. Parapunov slammed down a kill and an ace to get the team to 24-18, which led to a block by Dalton Solbrig to end the set.
Stanford led the third set 8-4 until Cowell took control of the service line and hammered 2 straight to floor service aces during a 5-0 run for the Rainbow Warriors. 
The Rainbow Warriors head onto their first road trip this Tuesday to play Queens University where Worsley believes their energy and engagement will get them through to keep their winning streak.
"Going on the road it's going to be a battle … this next road trip really counts … ," said the California native.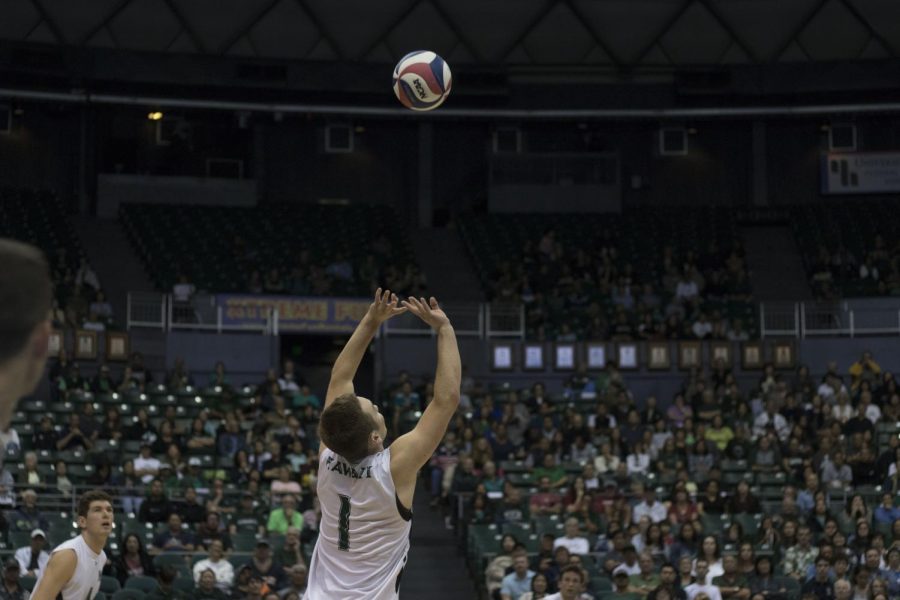 At the end of the regular season, the Rainbow Warriors will be hosting the Big West Tournament from April 18-20.
When asked if he was looking forward to the tournament, Parapunov confidently said, "No, I am looking for the next game … trying to stay focused on the next thing which is flying out on Tuesday … staying focused on each weekend until the Big West Tournament."