Silverswords Basketball Player Never Skipped a Beat
Erik Scheive is the embodiment of a great basketball player. He is 6-foot-10 with a unique skillset for his build, has a near-perfect GPA, is praised for having upstanding character, and is currently the highest-scoring player on the Chaminade University of Honolulu's men's basketball team. Scheive was never going to let his experience with cardiac arrest prevent him from playing basketball.
"I'm blessed to be able to play again," said Scheive, a junior who transferred to Chaminade from Yuba College in California.
At a travel basketball tournament in Reno during Scheive's junior year of high school, he felt light-headed, immediately went unconscious, and underwent cardiac arrest. CPR was performed, a defibrillator was used, and an ICD (implantable cardioverter defibrillator) was implanted to regulate his heart rate. Since then, the Marysville, Calif., native has maintained a clean bill of health, was recruited by the Silverswords men's basketball team, and began thriving as both a player and a student at Chaminade this fall semester.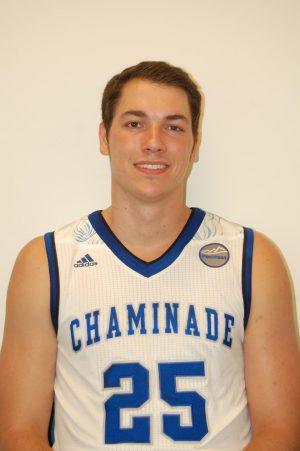 "After I got confirmation from the doctor that he has no issues and they don't have any restrictions on his athletic participation, I was fine," CUH coach Eric Bovaird said. "We knew he was a player that we really really wanted and as soon as any health restrictions were lifted, I knew I wanted him on the team. He was a really good player at Yuba College the past two years, and we're really pleased that he ended up at Chaminade."
Scheive is currently a junior majoring in business. In his position as a forward, he is the team's highest scorer with 15.1 points per game, has the third-most rebounds with a 6.3 average, and has made the second-most 3-pointers (11).
Scheive will be leading Chaminade (5-3) against intra-city rival Hawaii Pacific University (4-4) on Saturday at McCabe Gym. Tipoff is 7:30 p.m. The Swords have lost five straight games to HPU, their last win coming in February 2015.
Once he completes his business degree from Chaminade, Scheive hopes to play professional basketball for either the NBA or an overseas league. From the money that Scheive earns from professional basketball, he hopes to open his own business. Until then, he looks forward to growing as a student and improving his skills for an even more impressive next year.
"[Chaminade] has definitely been a great place for me," Scheive said. "I get along with the basketball team and the coaches so that's always nice. To go somewhere, if I'm not feeling well or not having a great day, I have teammates and coaches that can pick me up and that I can talk to and trust."
Bovaird praises his star player for being a quality young man and a joy to both him and the rest of the team. Despite his health scare, Scheive has never wavered in his desire to play basketball and has persevered through hardship.
"It's definitely something I love, to be able to play basketball and do well at it," Scheive said. "I have to thank my coaches and my teammates for getting me looks with the ball to be able to score, putting faith in me that I will be able to score the ball. It's not just me, it's all them too. I'm definitely blessed to be able to play basketball at such a high level."