CUH Men's Hoops Excited To Play Notre Dame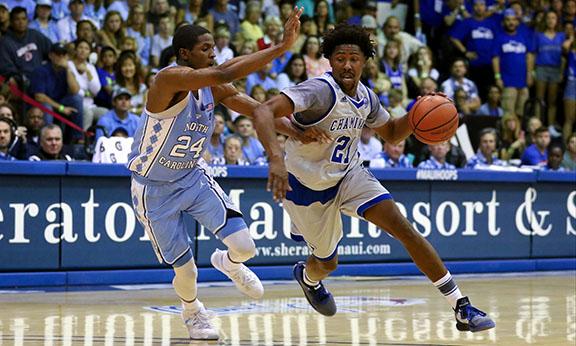 The 34th Maui Jim Maui Invitational kicks off Monday at the Lahaina Civic Center with host team Chaminade playing against Notre Dame. The prestigious basketball tournament started in 1982 when Chaminade beat the top-ranked University of Virginia. Since the upset in 1982, a total of 118 schools have participated in the tournament with North Carolina winning the most recent Maui Invitational over Oklahoma State 107-75.
This year's field is another strong one that includes Division I's Cal, LSU, Marquette, Michigan, VCU, 14th-ranked Notre Dame, and 7th-ranked Wichita State.
The Chaminade Silverswords' first game will take place Monday at 4 p.m. against Notre Dame and will be televised on ESPNU. The Silverswords are currently 2-0 averaging 71 points per game while holding opponents to an average of 61.5. The Swords have seen contributions from guards Dantley Walker, Austin Pope and Justin Bridges as well as newcomer Braden Koeliker, a 6-foot-8 forward who was previously at Colorado State in which he was a key reserve.
Nate Pollard, the Silverswords' 7-foot center who is brought in to defend bigs and get rebounds, is excited for the opportunity to play Notre Dame.
"I know that the team and I are all very excited to play Notre Dame," Pollard said. "It should be a great game, and it's a great opportunity for us to come together and play hard. We are going to give it everything and hope to come away with a win."
Notre Dame is 3-0 thus far with convincing wins over Holy Cross, Bethel, and Chicago State, all of which the Irish won by at least 25 points. The Fighting Irish are led by All-American Bonzie Colson, Matt Farrell and TJ Gibbs, and have seen a lot of early promise in freshman DJ Harvey, a top-50 recruit in the nation last year. The 6-6, 224-pound small forward Colson is averaging 20 points per game and will be a tough matchup for Chaminade. Gibbs is expected to contribute a lot this year after providing sparks off the bench last season.
"T.J. will have an increased offensive role as he becomes more of a main guy and a starter," Notre Dame coach Mike Brey said on the school's website. "He needs to take the open shot and not turn it down because he is a good shooter. His energy and attacking style will help us."
With the first matchup against Notre Dame, the Silverswords are the clear underdog, but that does not instill fear in the swords, rather excitement and opportunity.
"My favorite experience from last year was being able to play against the top talent in the nation and the to-be national champions North Carolina, and I'm excited to get another chance at a top program," Pollard said.
Although the Swords loss that matchup to UNC 104-61, the Swords have pulled off upsets before. The most recent of which came in 2012, when Chaminade defeated the University of Texas 86-73 in the opening round.
"It's the best tournament in basketball," said ESPN broadcaster Jay Bilas in an interview on the tournament's official website. "The setting is unbelievable and the competition is off the charts. The setting makes it as intimate as any high school gym you could be in. To be able to watch championship-level basketball in that setting and then walk outside to stare at the Pacific Ocean, it's unmatched."